Skirting Board Buying Guide | Height | Thickness | Length Options
Buying Guide | Skirting Boards Explained
Buying skirting boards online can be a daunting task. With so many sizes to choose, where do you start?
On our product pages, we have multiple drop down boxes that contain multiple selections. For skirting boards alone, there's 5 drop down boxes and over 20 different selections to choose from!
This can be quite confusing to some customers. However, all the options are necessary to make sure you get the size you want.
With that being said, we're going to explain all of the options you can choose when ordering skirting boards.
The Height Option
This is the first option you see when viewing any of our skirting board product pages. Arguably, it's the most important selection. It's also the option with the most choice.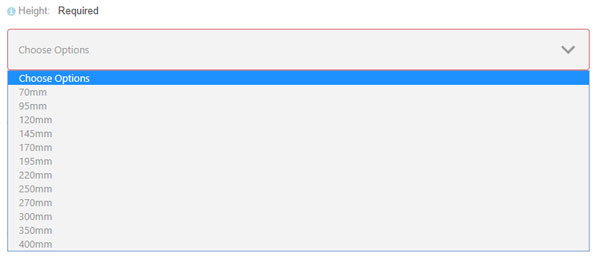 When selecting a height for your skirting boards on the product page, you'll see a maximum of 12 options. This can vary depending on the design.
Which Height Should You Choose?
It's not always clear which height you should choose. If you're matching up to existing skirting, the chances are you'll choose the same height for your new boards.
If you have radiator pipes running along your walls, you might be restricted as to how tall you can have the skirting boards. The same applies with plug sockets and other obstacles.
However, if you're starting with a blank canvas (newly plastered walls) you should be able to choose almost any height - it's down to personal preference.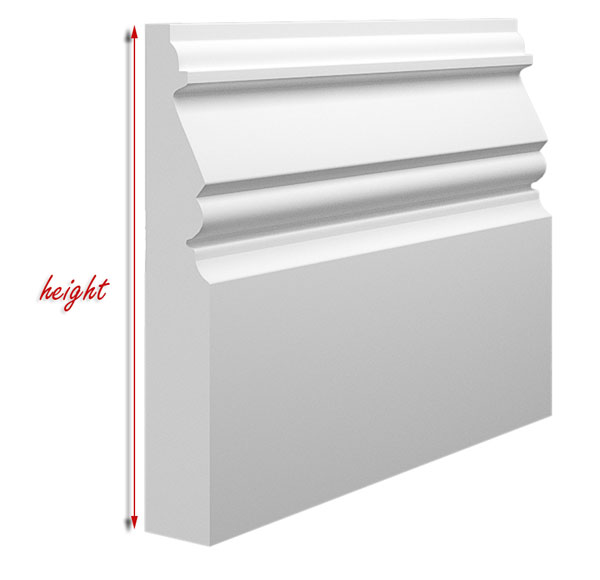 Image showing what the height selection changes
70mm To 95mm
These heights aren't very common for use as skirting boards. They're generally the sizes that people use for the width of their architraves.
But that doesn't mean to can't select this height for skirting boards. If you're restricted in the height you can choose (radiator pipes in the way, for example), these sizes may be better for you.
If you do choose 70mm or 95mm as the height for your skirtings, you will be restricted as to which designs you can choose. A lot of the smaller, plain designs will be OK but some of the more detailed designs simply won't be available as we can't fit them on to such a small board.
120mm To 170mm
We commonly see heights in this range throughout the UK even though they're still on the smaller side.
Generally, new builds will have plain skirting that tends to be around 120mm in height. This helps the company building the houses keep costs down. It also helps with handling the boards and speeding up the installation process.
You won't be restricted with designs in this height range - all of ours will fit on a board that is 120mm or taller.
195mm To 220mm
Taller skirtings are becoming popular, especially in older homes. 195mm and 220mm are the most common choices for people looking to go taller.
When looking at taller skirtings, larger designs should be the main point of focus.
Generally, large detailed designs are more suited to high skirting boards.
250mm And Above
Not many customers enter this height range. If you're looking here, you most likely have a large house with very tall ceilings.
Skirting boards that are this tall are used to add emphasis to interiors and create a grand look. You'll definitely be choosing detailed and more extravagant designs for these heights.
The Thickness Option
If you've selected your desired height, the next step is to choose the thickness you require. This is another important step that shouldn't be overlooked.

When you select the thickness drop down box, you'll see 3 options to choose from. Sometimes, you may see fewer options depending on the design.
Which Thickness Should You Choose?
If you're going to be matching up to existing skirting, you'll need to choose the same thickness (or as close as possible) for your new skirtings.
If you're starting fresh, you can choose a thickness to suit your home. However, you will have to check that you can accommodate the thickness you select.
For example, if your architraves are 18mm thick and you're not going to replace them, you'll be better off selecting 18mm thick for your skirtings.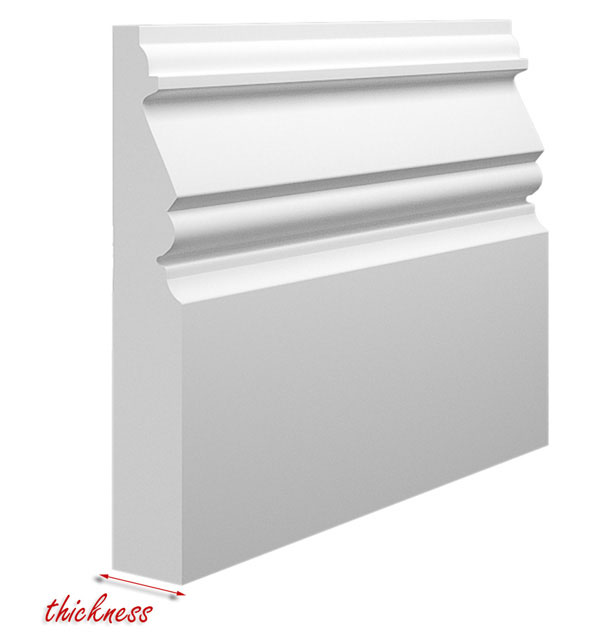 Image showing what the thickness selection changes
15mm Thickness
15mm is our thinnest option available. It is also becoming more popular, especially since we added 4200mm lengths to the lineup!
If you're looking to keep as much floor space as possible, this thickness will be the best as it takes up less room.
Choosing 15mm will also reduce the weight of the boards so handling and installation will be easier.
Designs are slightly more limited with this thickness because some profiles are simply to deep to be moulded on to the board.
18mm Thickness
This is our most popular thickness. It's standard throughout the UK and is not as limiting in regards to designs as the 15mm boards.
These boards are not much heavier than 15mm boards so handling is still efficient.
25mm Thickness
This is our thickest board available (we can get thicker on request). We find that customers who are purchasing tall skirtings generally use this thickness.
This board is much heavier than the 15mm and 18mm boards. It also has the widest selection of designs to choose from as they can all fit on this size board.
The Length Option
Next, you'll be choosing the length for your skirting boards.

There are 2 lengths to choose from in the length drop down.
Which Length Should You Choose?
This one should be pretty easy to decide. If the majority of your walls are over 3 metres in length, the obvious choice should be the 4200mm lengths.
The longer lengths will be the choice for most customers, but you also have to consider being able to handle them.
Can your property accommodate 4.2 metre lengths easily? If you live in a block of flats, getting them up to the property might not be an easy task.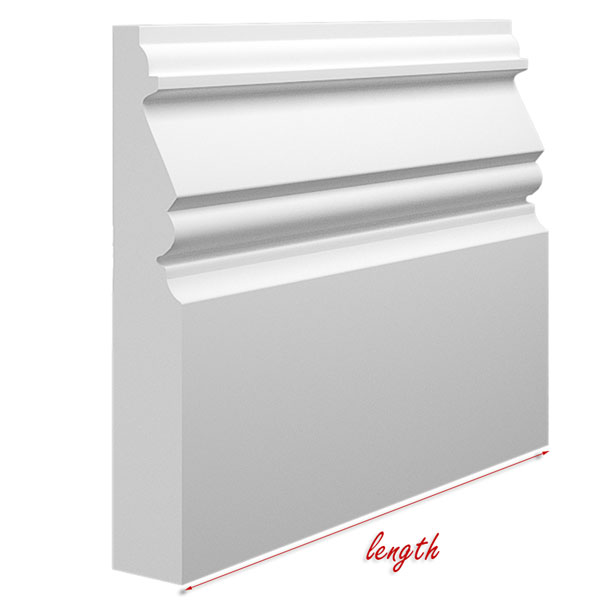 Image showing what the length selection changes
3050mm Length (just over 3 metres)
The shorter lengths are easier to manoeuvre, so if you have a smaller property these may be the best lengths to purchase.
However, if you have long walls within the property you might need to utilise the longer lengths too.
4200mm Length (4.2 metres)
These are the longest lengths we manufacture. They're ideal if you have long walls as you won't need to have as many joins (if any).
The Finish Option
Now that you've chosen the required length, we're on to choosing the finish for the skirtings.

We only offer 2 finishes - unprimed and primed.
Edit: We now offer an undercoated finish option too!
Which Finish Should You Choose?
This shouldn't be a hard choice and we always recommend choosing the primed or undercoated finishes. We'll go into more detail below.
Choosing the undercoated finish not only saves time when adding your final finish but will also ensure that the finish quality will be professional.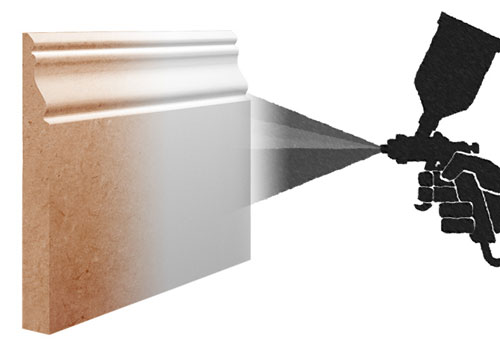 Image showing the difference between the unprimed and undercoated finish selections
Unprimed
If you select the unprimed finish, you'll be getting a skirting board that doesn't have any type of finish added to it.
If you're ordering MDF skirtings, you'll get a board that is similar in colour to the image above (left side - sand colour).
If you're ordering Pine skirtings, it will look just like an untreated piece of timber.
There are no benefits when ordering unprimed MDF as it will need to be primed and undercoated by yourself before painting.
Pine must be ordered unprimed if you are planning on staining / varnishing the skirting boards.
Primed
If you select the primed finish, you'll get a board that has a single layer of primer applied. We sand the board down and then apply 1 coat of water based primer.
When selecting the primed option, remember that the boards will need sanding and then undercoating before applying your final paint finish.
Undercoated
If you opt for the undercoated finish, you'll receive a board that is practically ready to be installed!
We sand the boards, prime them, sand again and then apply a layer of undercoat to ensure you have a smooth finish upon which to apply your final paint finish (if you so wish!).
The Rebate Option
The final option to choose from is whether or not you want the skirting boards rebated.

You can choose either 'no rebate' or 'rebated' in the rebate drop down box.
Do You Need A Rebate?
Are you planning on hiding wires behind the skirting boards? If so, you'll need to choose the rebated option.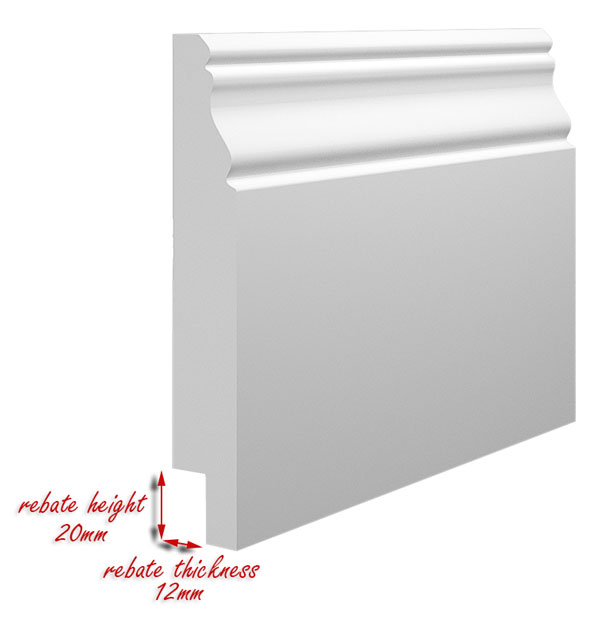 Image showing what a rebate is on a skirting board
No Rebate
If you choose 'no rebate', the skirting board won't be rebated. There will be no space to hide cables behind the skirting.
Rebated
If you choose the 'rebated' option, a small section will be removed from the rear of the board.
This enables you to hide wires and cables behind the skirting. The standard rebate is 20mm x 12mm (as pictured above) and can easily hide small cables and help to keep the room looking tidy.
If you need a larger or smaller rebate, get in touch with us and we can draw up a quote for you (larger rebates incur additional costs). We also now offer skirting board covers which feature a much larger rebate in order to hide existing skirting without needing to remove them!
Add Your Skirting To The Cart
Once you've selected all the above options, you can finally add the skirting board to the cart!
Simply type in the number of boards you need into the quantity box and hit the 'Add to Cart' button in red.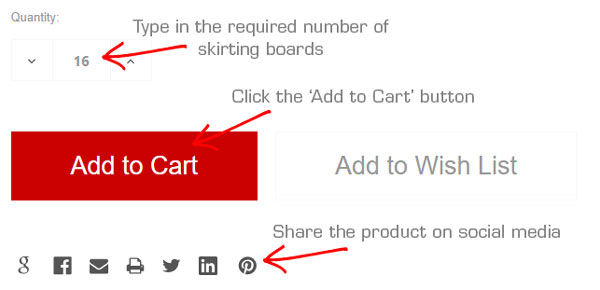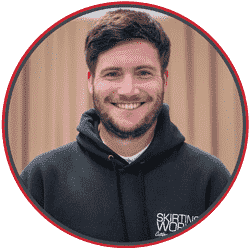 Lee Watkinson
Digital Marketing Director at Skirting World with 10 years of experience in Home Interiors & Manufacturing.