What is the length option for?
This option is used to select how long the piece should be. If you are looking at architrave, there will be a single and double set option available.
How do I know which length to choose?
If you're purchasing skirting boards, the longer lengths are normally the most ideal - especially if you have long walls as you will have less joins (if any). However, if you live in a smaller home with short walls throughout, the shorter lengths may be more beneficial (they are also easier to store and handle).
If you're purchasing architrave, you'll also have the option of choosing single sets and double sets. A single set will cover one side of a single door frame (2 legs at 2440mm and 1 head at 1220mm) and a double set will cover one side of a double door frame (2 legs at 2440mm and 1 head at 2440mm).
If you're purchasing window boards, you will need to measure how wide the area is where it will be installed (from the left hand side of the window to the right hand side - or vice versa).
I require a different length but I can't see the option. Is this possible?
Our longest length available in MDF (now all premium moisture resistant HDF) is 4200mm. Unfortunately, we cannot get anything longer in this material. However, we can get longer lengths in our Pine material but this is subject to stock at the time of ordering.
For skirting boards, we have 3050mm lengths and 4200mm lengths as standard. If you require shorter pieces, we are able to run skirting on 2440mm lengths to but you will need to call us or drop us an email and we'll quote you for these lengths. Should you need a length between 3050mm and 4200mm, for example a 3500mm length, we can do this but it would be charged at the size above (4200mm in this case). Please refer to our bespoke service page for more information.
For architraves, the standard lengths are 2440mm, 3050mm and 4200mm. The same rule applies to the architraves as above in regards to different lengths.
For window boards, we already have more sizes to choose from: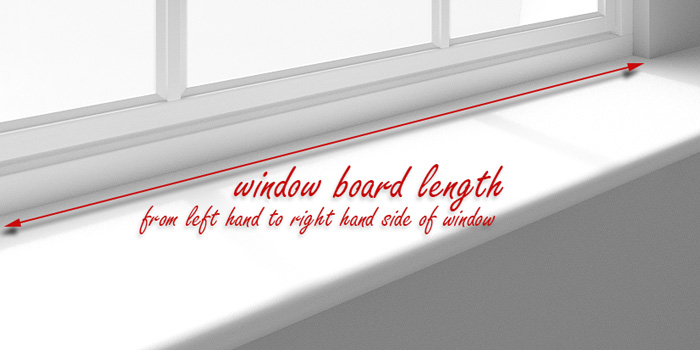 600mm
1200mm
1500mm
2400mm
3000mm
4200mm
We have found that these are the most common sizes throughout the UK so we offer them to enhance the efficiency of ordering on the website. However, should you need a more specific size between any of these (or even shorter) just get in touch. We can do anything below 4200mm, no matter how small.
Lengths converted from millimetres to metres
Below, we've converted all of our standard lengths from millimetres to metres:
600mm is 0.6m
1200mm is 1.2m
1220mm is 1.22m
1500mm is 1.5m
2400mm is 2.4m
2440mm is 2.44m
3000mm is 3m
3050mm is 3.05m
4200mm is 4.2m
Lengths converted from millimetres to feet (approximate)
If you work in feet rather than metres, you'll find a list below where we've converted them for you (approximate sizes in feet):
600mm is 2 feet
1200mm is 4 feet
1220mm is 4 feet
1500mm is 5 feet
2400mm is 8 feet
2440mm is 8 feet
3000mm is 10 feet
3050mm is 10 feet
4200mm is 13.8 feet