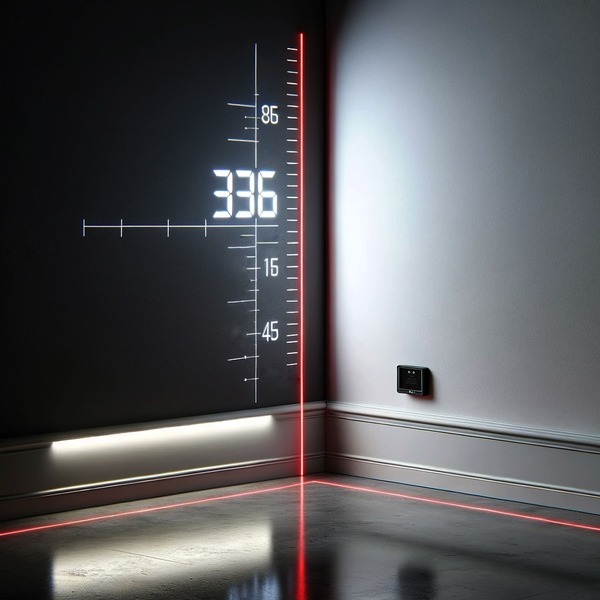 The height of your skirting boards is crucial for maintaining a cohesive and balanced interior design aesthetic.
A few mm's can make or break the impact of skirting boards on your room!
Read on to learn how to choose the perfect skirting height based on interior design principles, practicality and functionality!
Choosing The Perfect Skirting Board Height
When installing new skirting boards or doing renovation work, one of the biggest decisions is determining the right height for your room. The height of the skirting board may seem like a small detail, but it can make a dramatic impact on the overall look and feel of a space. Selecting the incorrect height can throw off proportions, create discord with other architectural details, and even make rooms feel smaller.
So how do you decide what skirting board height is best for your home? What factors should be considered? In this blog post, we will explore the ins and outs of selecting the ideal skirting board height. We'll look at standard measurements, historical trends, style considerations, and tips for harmony with other trim work.
Read on for a comprehensive guide on choosing a skirting board height that is tailored to your home and personal taste. With these insights, you'll be able to determine the perfect height to achieve your desired aesthetic and transform any room.
Average Skirting Board Height
When selecting a skirting board height, it helps to be familiar with the most common and standard measurements. This provides a solid reference point from which you can then customize to your specific needs and style.
145mm / 5.7 Inches
Our skilled woodworkers have machined tens of thousands of skirting boards this year, and combined with data from the previous 10 years of operation, the most common height chosen for skirting boards in British properties is 145mm / 5.7in
This height strikes a perfect balance between visual appeal and functionality, making it a timeless choice for homeowners across the country.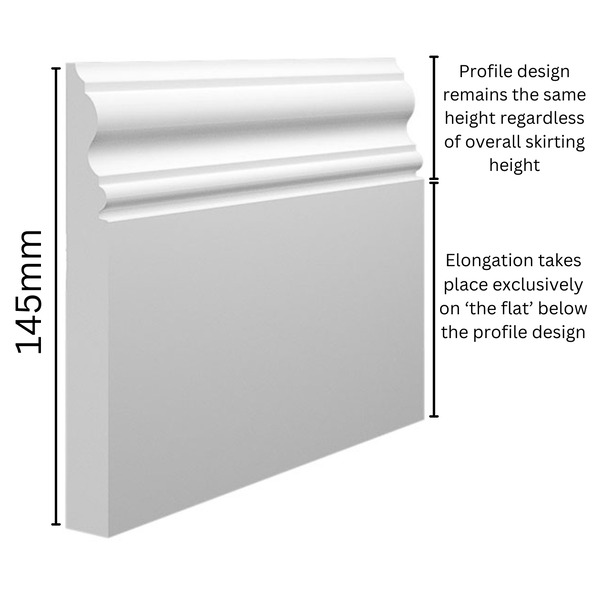 Why Are 145mm Skirting Boards So Popular?
Proportional Balance: 145mm skirting boards achieve a proportional balance with the most common wall height in the UK, which is typically 2400mm. This ensures that the skirting boards complement most ceiling heights without appearing too high or too low.
Subtle Presence: One advantage of mid-height skirting boards is that they do not overpower other trims and design elements in the room. By not stealing the show, they allow other features, such as artwork and decorations, to take centre stage.
Space Efficiency: The 145mm height of these skirting boards is less obtrusive compared to taller options. This design choice preserves valuable wall real estate, providing ample space for displaying artwork and other decorative items.
Harmonious Blend: The height of 145mm strikes a harmonious balance between traditional and modern skirting board styles. It offers a versatile option that complements various interior design themes.
Easy Maintenance: Smaller skirting boards accumulate less dust and dirt compared to larger options. With 145mm skirting boards, maintenance and cleaning becomes easier, as there is less surface area for debris to gather on.
Cost-Effective: Opting for 145mm skirting boards can be an economical choice. The reduced material required for these boards translates into lower costs, making them a great option for those on a budget.
Lightweight and DIY-Friendly: Unlike taller skirting boards, 145mm boards are lightweight, making them easier to handle and manoeuvre during installation. Their manageable size also simplifies the cutting process, facilitating an easier DIY installation.
Skirting Board Height Visualiser
Visualise the height of your skirting boards with our handy tool.
Skirting Board Sizes
Skirting boards are extremely versatile and sizes can vary drastically. Here are our standard skirting board sizes available for sale. Custom skirting is also available if you need extra precise trims.
---
Standard Skirting Board Sizes

---

| Millimetres | | Centimetres | | Inches |
| --- | --- | --- |
| 70 | 7 | 2.76 |
| 95 | 9.5 | 3.74 |
| 120 | 12 | 4.72 |
| 145 | 14.5 | 5.71 |
| 170 | 17 | 6.69 |
| 195 | 19.5 | 7.68 |
| 220 | 22 | 8.66 |
| 250 | 25 | 9.84 |
| 270 | 27 | 10.63 |
| 300 | 30 | 11.81 |
| 350 | 35 | 13.78 |
| 400 | 40 | 15.75 |
Skirting Board Heights For Period Homes
When selecting a skirting board height, looking to the past can provide inspiration. Historical trends offer a glimpse into what works well proportion-wise for different interior architectural styles.
Victorian Skirting Board Height
For Victorian homes, choosing a skirting board height of 230mm / 9 inches is recommended to stay true to the period style. Victorian rooms featured ceilings around 9 feet high. The standard 9-inch skirting board balanced well with this ceiling height and other ornate Victorian architectural details like crown moulding, ceiling medallions, and intricate plasterwork.
Victorian style emphasizes bold statements and luxurious embellishments. A 9-inch skirting hits the sweet spot between showing off and overwhelming the space. Shorter boards would underwhelm in a Victorian setting. Meanwhile, moving to 12 inches or beyond not only looks disproportionate but also competes with other lavish decorative trim work.
When renovating a Victorian property, use a skirting board matching service to replicate the 9-inch skirting boards and retain the home's character. If previously altered, consider reinstating traditional heights. And complement new 9-inch skirting boards with era-appropriate dado rails, picture rails and window casing details.
Georgian Skirting Board Height
Georgian and Regency period rooms demand more narrow, delicate skirting boards. Homes of this era featured higher 10 to 12 foot ceilings. Lower skirting boards—between 6 to 9 inches—maintained spatial harmony.
Georgian and Regency styles embody symmetry, classical proportions and refined elegance. Skirting boards were simple and understated. Ornate, bulky boards would disrupt the clean lines and well-balanced feel.
For Georgian/Regency properties, stick to slim skirting boards no taller than 9 inches. Eight-inch boards can look particularly fitting. When repairing or replacing, mimic original board heights. Complement with trim details like picture rails and chair rails consistent with the period.
Edwardian Skirting Board Height
The Edwardian era bridged the gap between the extravagant Victorians and strict Georgians. Skirting board heights also transitioned, typically ranging from 9 to 12 inches.
These taller boards added presence while still complementing Edwardian architecture. Newly popular central heating allowed room heights to decrease, making the taller boards well-proportioned. Elaborate decorative moulding and panelling remained on trend, suiting the bold skirting board style.
When renovating Edwardian spaces, skirting boards 9 inches and taller recreate the period aesthetic. Assess room size and ceiling height. Adjust board height to strike the right visual balance for the setting.
Tall Skirting Boards
For making a dramatic design statement, extra tall skirting boards 170mm and above hit the mark. The generous height adds a stately elegance to any space.
Tall skirting boards work best in rooms with higher ceilings. They help anchor the proportions and make spaces feel cosier. Historic homes often featured taller skirting to balance the lofty ceilings popular in classical architecture.
In contemporary homes, oversized skirting boards provide contrast in rooms with modern sparseness. The expanse of wall covered dresses up plain surfaces.
Use tall skirting boards to lend rooms a grander, more palatial aesthetic. Libraries, dining rooms, living rooms and master suites benefit from the upscale ambiance tall skirting boards provide. Just take care the height suits the room layout. Avoid overwhelming small spaces.
When installing tall skirting boards, pay attention to details. Take care with mitred corners to avoid gaps that ruin the effect. Choose top quality wood that accepts paint or stain evenly. And invest in matching quad and ogee moulding for a finished cohesive look.
For making a room feel elegant and special, extra tall skirting boards deliver. Their commanding presence delights in both classic and contemporary settings.
Tall Skirting Board Covers
Also consider skirting board covers, a clever type of skirting board with a large rebate on the back to host your old skirting board. No removal required, simply pop it over the top!
Traditional, Modern And Contemporary Style Heights
Consider the interior style and aesthetic you're aiming to achieve, and choose the height of your skirting boards accordingly.
Traditional Style - A 230mm - 300mm / 9" - 12" high skirting board suits a classic, traditional aesthetic. The generous height provides elegance and grandeur. Traditional rooms feature ornate crown mouldings, chair rails, picture frames and other lavish trim details that harmonize with a wide, substantial baseboard.
Modern Style - For a clean, contemporary look, narrow skirting boards work best. 100mm - 145mm / 4" - 6" keeps the height minimal and streamlined without overpowering the space. Low-profile skirting boards integrate seamlessly into sparse, modern interiors with sparse ornamentation, open floor plans and large windows.
Contemporary Style - Contemporary design overlaps quite a bit with modern style in its pared-down approach. Contemporaries homes feature simple skirting boards around 100mm - 145mm / 4" - 6" high. This matches the unfussy vibe, neutral colours and informal mix of materials like steel, glass and wood. Any higher and the skirting would clash with the casual elegance.
Skirting Board Profiles and How They Affect Height
The profile or moulding shape of the skirting board also influences how tall the board should be. More ornate, pronounced profiles suit taller heights, while simple, streamlined profiles keep the height low.
Some common skirting board profiles:
Ogee - An ogee profile with its S-shaped curve looks best around 9 inches tall. Any shorter and the decorative shape gets lost. Taller than 10 inches can compete with other trim mouldings.
When selecting a profile, picture it in different heights. Find a size in scale with the moulding design. The profile and height should harmonize to create an integrated look.
Ratios & Proportionality of Skirting Height
When determining the ideal skirting board height, pay attention to how it related proportionally to other elements in the room.
Ceiling Height: Take ceiling height into account, as it directly impacts the perception of the skirting board size. For example, in rooms with 8 foot ceilings, a 6 inch skirting appears substantial, while 9+ inches starts to overwhelm. With 9 foot ceilings, 9 inch skirting looks balanced, size up to 12 inches for even taller ceilings.
Furniture Size: When selecting a skirting board height, consider the style and proportions of furniture in the room. A height of 7-9 inches often complements low profile, modern pieces with exposed legs, while bulky traditional furniture with skirts may pair better with a shorter 4-6 inch skirting to match scale. Aim for a height that aesthetically balances with the furniture style without appearing too imposing or dwarfed.
Aim for skirting boards in pleasing proportion to all the existing elements. The goal is a cohesive look where no one component overpowers. Careful attention to scale brings harmony.
The Role of Flooring in Skirting Board Height
The type of flooring being installed alongside new skirting boards should inform the height you choose. Certain floor finishes result in a thicker overall floor profile that needs increased skirting height for an ideal transition.
Carpeting - Carpets, especially plush or shag, can add over an inch of floor thickness. Size skirting boards accordingly to account for the carpet surface meeting the wall a bit higher up. Around an extra 2 inches of skirting board height allows for flush carpeting.
Wood flooring - Natural wood floors tend to be thinner and have a sleek profile. Standard skirting heights like 9 inches typically complement wood floors nicely.
The goal is a seamless transition between flooring and skirting. A handy tip is to install the flooring first, then hold skirting boards up to find a height that complements the floor selection.
Making The Decision - Choose What's Right For Your Home
When selecting the perfect skirting board height for your home, take a holistic approach. Consider the size and architecture of each individual room along with your overall decor goals.
Evaluate room dimensions - Proportions matter. Make sure the height suits the room size. For instance, a tiny room can get overwhelmed by 12 inch boards.
Factor in existing details - Look at ceiling height as well as window, door and baseboard trim. Find a skirting board height that complements these.
Consider furniture - Will bulky traditional pieces fit below the skirting? Or can a low-profile modern height accommodate sleek tables and chairs?
Think about style - Traditional? Contemporary? The style you want to achieve should guide the height you select.
Aim for cohesiveness - Choose heights that transition logically from room to room.
Trust your taste - In the end, choose what appeals most to your personal aesthetic. Decor is highly subjective so pick what makes you happy!
For a second opinion, seek advice from a professional interior designer. Their expertise can help you nail down the perfect skirting height for both form and function.
Installing new skirting boards offers a terrific opportunity to transform the look of your home. Carefully considering all the variables will ensure you select a height that suits your space and style.
FAQ
What height should skirting boards be?
There is no perfect skirting board height. The ideal height depends on factors like the room dimensions, ceiling height, style of decor, and matching with other trim work. Common skirting board heights range from 4-6 inches for a minimalist look up to 12 inches or more for a grand aesthetic. Following historical style guidelines also helps determine an appropriate height. For example, homes of the Georgian era suit 6-9 inch boards, while Victorian style calls for around 9 inches. Ultimately the height should balance visually with all the architectural details in a space.
What height is a standard skirting board?
The most common standard height for skirting boards is around 6 inches, or 145 mm. This height provides elegance and presence while still balancing well with 8 foot ceiling heights. It also pairs nicely with door trim and other decorative moulding typically found in traditional and historical homes. So while not a hard and fast rule, 6 inches or 145 mm serves as a nice default height to consider when installing new skirting boards.