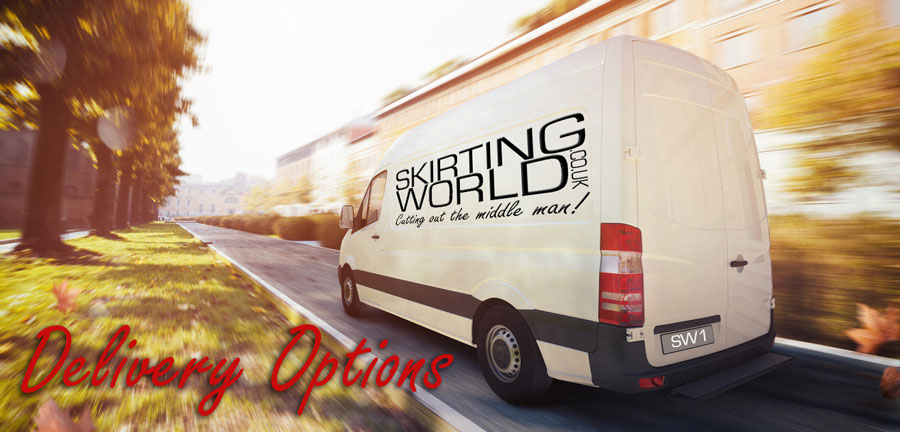 Please note: our delivery options only cover delivery to the UK. If you need delivery outside of this area (Northern Ireland, Channel Islands, Highlands, Islands), please contact us for a delivery quote.
Our free delivery option covers 95% of the UK. Unfortunately, the courier have much higher costs for the other 5% which means we simply cannot offer our free delivery service to those in these areas. If you're not able to select free delivery, we'll need to get a quote from the courier for you.
All deliveries made by our third party courier are kerbside deliveries - they are not able to bring orders into your home / workplace.
Minimum Order Value: £25 + VAT

System Upgrade
We have recently completed a huge upgrade to our in house system.
Should you order before midnight on a Wednesday, you should receive an email from us on Thursday with a delivery date.
This is subject to change but you will be notified by email and / or text message should the date change.
The day before delivery, you will be notified that the order has been loaded to a vehicle.
On the day of delivery, you will receive further correspondence and the tracking page will show you further updates. If your order is being delivered by one of our own drivers, you will have an ETA and a text message when the driver is 2 drops away from you.
Free Standard Delivery (4 working days*)
(CURRENTLY 4 - 12 WORKING DAYS)
Our Standard Delivery service gets your goods to you on the 4th working day. However, you are also able to choose a working day after this point should there be a better date for you to receive the order. This service is free of charge. Requires signature upon delivery. Terms and Conditions apply.
Super Fast Delivery (next day / 2 working days*)
(CURRENTLY DISABLED)
Our Super Fast Delivery service ensures that you will receive your primed and unprimed goods within 2 working days! If you order unprimed goods before 12:00 midday, this service will ensure you get your goods the next day! Requires signature upon delivery. Terms and Conditions apply. Read more about this service.
Delivery Times
The delivery window for both services is between 8am and 6pm. Should you need a more specific slot (AM delivery), give us a call and we will contact the courier for a quote.
Delivery Date
If you wish to find out which day your order is going to be delivered, simply give us a call or an email and we'll look into it for you.
Delivery Note
If you believe your order is due for delivery on a day where you may not be in, you can leave a note on your front door. Make sure the note includes your name, signature and where you want the goods to be left. The driver must be able to take the note away as it will be used as proof of delivery.
Collection
If you're local to us, you can choose to collect your goods instead of having them delivered. In order to place an order for collection, call us to place your order over the phone and agree a collection date.
All of our delivery options are subject to our Terms and Conditions.
*Not including the day you order, eg. ordered Wednesday 5th - Thursday 6th is the first working day and Friday 14th is the 7th working day.
Please note: all parcels should be unwrapped and checked upon receipt of your order. Any damage should be reported within 24 hours of the delivery being made so that we can arrange replacements accordingly. We cannot accept any responsibility for damages reported after this time frame has expired.