The Best Paint For Skirting Boards 2023 - Detailed Comparison
What's The Best Paint For Skirting Boards In 2023? – The Ultimate Guide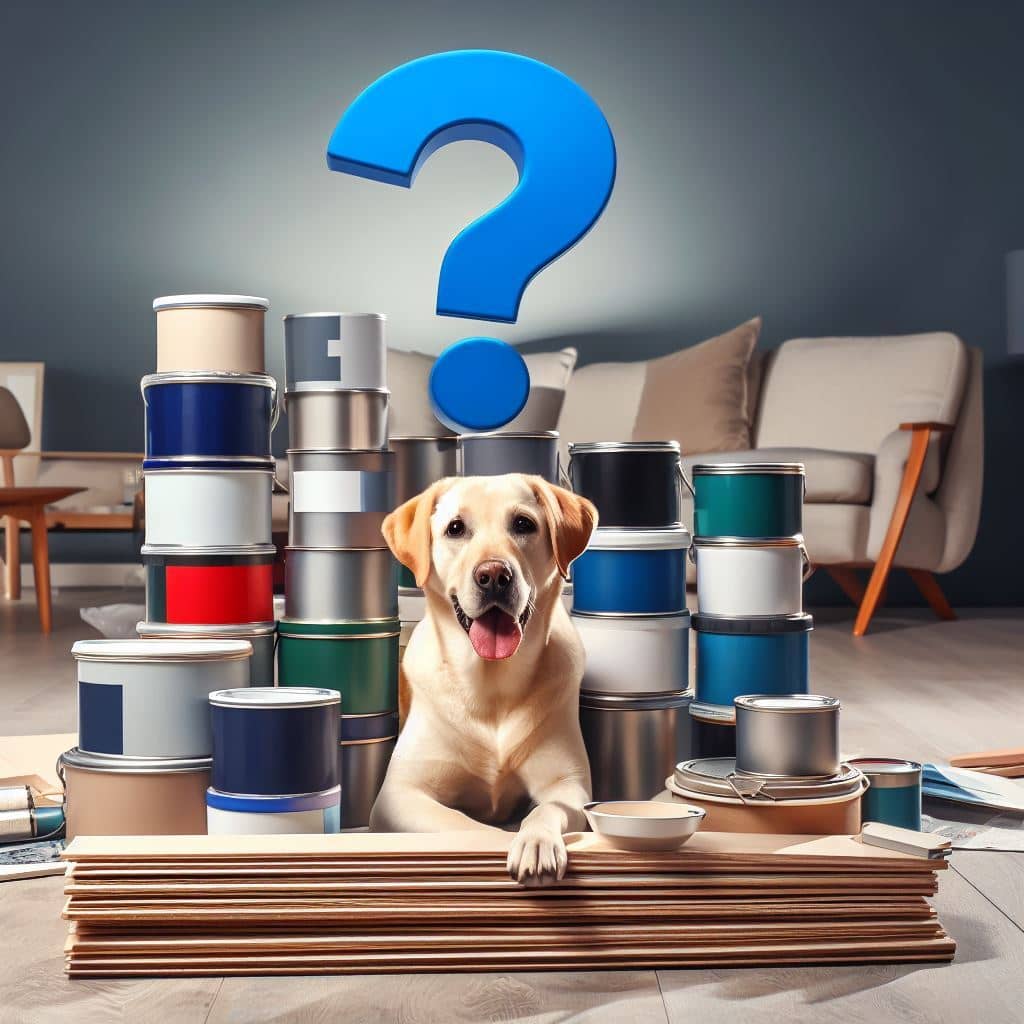 Gloss, Satin and Eggshell paint finishes each produce drastically different outcomes on skirting boards.
The type of room plays a big part in the paint you use, bathrooms and kitchens may require moisture-resistant paint.
The colour of your skirting boards can even affect how light bounces around the room!
---
---
Can you use wall paint on skirting boards?
Oil-based or water-based?
Satinwood vs Gloss?
Maybe eggshell?
What paint should you use on skirting boards?
Whether you're renovating existing skirting boards or fitting your brand new Lambs Tongue skirting boards, we're going to list, analyse and rank the best types of paints and finishes to help you make an informed decision.
---
Quick Summary
The Best Paint For Skirting Boards
Our Ranking Of The Best Skirting Board Paints

We recommend Dulux Diamond water-based satin paint for the best of both gloss and eggshell.
It's quick-drying, environmentally friendly, and complements bold colours in modern interiors with a slight sheen and hard-wearing finish.
Find out why in our comprehensive breakdown below...
↓
---
Contents
Factors to Consider When Choosing a Paint Finish
Paint Reflectiveness/Sheen
Gloss paints have a high sheen and are reflective, whilst satin has a lower sheen and a semi-gloss finish, eggshell finishes have very little to no sheen. Consider the look you want to achieve and how the sheen will reflect the light sources in your space.
Pro Tip: High gloss paint can help to brighten up a dim room.
The finish you opt for should work with the overall aesthetic of your home, gloss finishes are more traditional, while satin and eggshell are modern and contemporary.
Some finishes will require more attention than others. Oil-based gloss tends to discolour quickly when used internally as the natural oils in the paint react with oxygen in the air, causing it to yellow as it ages. Fully water-based paints will never turn yellow, but be aware of products which are labelled as water-based but may contain carrier oils.
Pro Tip: Natural and artificial lights can prevent discolouration of oil-based paints, use oil-based paints in areas which receive ample amounts of light.
The wear and tear your skirting boards will be exposed to is important to consider, if they are in a high-traffic area or you have young children running around, a hard-wearing gloss or satin finish will be more appropriate.
If you're painting existing skirting boards, they may carry imperfections such as scuffs, dents, nail holes or blemishes. Satin, eggshell and matte finishes can hide imperfections due to their lower sheen, whereas a high gloss finish will highlight any imperfections.
Pro Tip: Ensure the surface of your skirting board is clean before painting, and if you're applying a new finish to existing skirting boards, you may need to sand down your skirting boards.
Here at Skirting World, we offer 3 different finish options – unprimed, primed and undercoated.
If you intend to gloss your skirting boards, you'll achieve the best finish with an undercoated or primed surface, which will also help to prevent the paint from peeling in the future.
Most Popular Paint Finishes On Skirting Boards
Within British interiors Gloss, Satin and Eggshell are the three most popular skirting board paint finishes, let's get into each one's unique features, pros and cons!
Satin Paint Finish

If you choose a satin finish (also known as satinwood), you'll achieve a semi-gloss finish. It's not as shiny as gloss but not as matte as eggshell.
If you have modern skirting boards and want to maintain a modern aesthetic, this would be a much better choice as opposed to gloss due to a flatter finish complementing bolder colours. The colour will also look more solid as it doesn't reflect as much as gloss.
Some brands of paint have different finishes. You can get paint that has a plastic/enamel-type finish which can be useful for hiding imperfections on the skirting.
A satin finish gives a clean and crisp look to the skirting boards. It's also easy to maintain and clean.
Satin is also well known for its longevity and for maintaining the original colour much longer than an oil-based gloss.
Our Top Pick: The Best Satin Paint
---
---
Dulux Diamond Satinwood - The Best Satin Paint Finish

Features
Advantages
Disadvantages
Subtle Sheen
Easy to maintain and clean
Reveals some imperfections
Semi-gloss finish
Moderately durable
Requires moderate preparation
Reflects some light
Medium moisture resistance
May show brush strokes
Modern aesthetic
Resistant to yellowing
Touch-ups noticeable
Best of both worlds
Gloss Paint Finish

If you choose a gloss finish, you'll be opting for a high sheen and a shiny reflective finish.
It's also renowned for its durability and hardwearing characteristics. This should be considered in high foot traffic areas and homes with young children.
However, durability isn't restricted to just gloss paints in this day and age. Advancements in technology have bought hardwearing alternatives to the market.
If you are planning on painting old skirting boards with gloss paint, you'll want to make sure that they're in good condition beforehand as gloss may highlight any imperfections underneath the paint.
One thing to remember when using gloss paint is to choose a water-based gloss rather than an oil-based gloss. This is because oil-based gloss discolours rather quickly so if you want to keep the skirtings looking fresh, you'll be applying another coat before you know it.
When choosing a white skirting board paint, gloss is the most commonly purchased finish.
Our Top Pick: The Best Gloss Paint
---
---
Johnstone's Professional Gloss - The Best Gloss Finish

Features
Advantages
Disadvantages
High sheen
Extremely durable
Highlights imperfections
Reflective surface
Long-lasting
Prone to discoloration
Brightens spaces
Easy to clean
Requires surface preparation
Traditional aesthetic
High moisture resistance
Difficult to blend repairs
Eggshell Paint Finish

If you choose an eggshell paint for the skirting boards, you'll end up with a matt finish with very little to no sheen whatsoever.
Eggshell paint is generally used on larger surfaces but is becoming popular as a skirting paint (especially within shabby chic interiors).
It's good for use within areas that have above-average foot traffic as it is more durable than emulsion and is easily maintained and kept clean.
Our Top Pick: The Best Eggshell Paint
---
---
Leyland Acrylic Eggshell - The Best Eggshell Finish

Features
Advantages
Disadvantages
Low sheen
Hides imperfections
Less durable
Reflects light evenly
Absorbs excess light
Attracts dirt
Flat finish
Warm, classy appearance
Prone to moisture damage
Contemporary aesthetic
Resistant to discoloration
Difficult to clean
Water vs Oil-Based Paint
Before we move on to choosing the best colours for your skirting board, we must first make a more important decision.
It's not only the sheen and colour of your paint that matters, but also the type of solvent the paint is composed of. There are two main types of paint solvents, water and oil.
The solvent that paints are based on will make a big impact on the appearance of the colour over time, its durability and its quality.
What is Water-based paint?
Water-based paint also known as latex or acrylic paint is a paint which uses water as the primary carrier. Water-based paint is the most common type of paint and is considered more environmentally friendly because it emits lower levels of volatile organic compounds (VOCs) during application and drying in comparison to traditional oil-based paints.
Water-based paints are a popular choice for skirting boards as they create easy-to-clean surfaces which are moisture-resistant, and dry quickly, which means you can use them in bathrooms and kitchens and won't have to tip-toe around the house for too long after applying.
| Advantages of water-based paint | Disadvantages of water-based paint |
| --- | --- |
| Low emissions of VOCs | Can be more expensive than oil-based paint |
| Easy to clean | Not as durable as oil-based paint |
| Dries quickly | May have a rough or imperfect finish |
| Can be tinted to match a variety of colours | Not the most suitable for high-traffic areas |
| Offers good adhesion and durability on skirting boards | More prone to chipping/flaking than oil-based paint |
| Can be applied in multiple layers for better coverage and finish | Not as washable/scrub-resistant as oil-based paints |
What is Oil-based paint?
Oil-based paint, also known as alkyd paint, is a paint which uses oils such as mineral spirits or turpentine as the primary carrier. One of the main advantages of oil-based paints is their long lifespan and smoother finish than water-based paint.
Oil-based paints are a more traditional option, they can have higher levels of volatile organic compound (VOC) emissions during application and drying, which can have a negative effect on the environment. Cleaning oil-based paint is also difficult and requires the use of harsh chemicals. It can also take longer to dry than water-based paint.
| Advantages of oil-based paint | Disadvantages of oil-based paint |
| --- | --- |
| Longer lifespan and durability than water-based paint | Difficult to clean |
| Smooth and shiny finish | High levels of VOC emissions |
| Suitable for high-traffic areas | Prone to discolouration and yellowing |
| Resistant to stains | Takes longer to dry than water-based paint |
| Provides good resistance to moisture | Not as sustainable and environmentally friendly as water-based paint |
Choosing The Right Colours For Your Skirting Board
Most skirting boards are white, but recently many homeowners have been experimenting with a wider array of colour schemes for their skirting boards ( black and grey have become super popular recently) to curate a visually pleasing aesthetic to each room and to play off contrasting surfaces.
When deciding on painting skirting boards, you must consider what type of vibe you wish to have for your home. As stated above, different combinations of paint, brightness and skirting board profiles will affect how it feels to be within the home.
Bright colours will make the home look bright and lively, whereas darker colours will make a deeper contrast look.
This look can also have the side effect of making the rooms look much wider and taller than normal. A good effect if you are looking to make your home seem massive on the inside.
When choosing the colour you want for your skirting boards, you have to consider several important factors. You can do this by following our 7-step guide below:
Consider the overall design, colour scheme and aesthetic of the room: Your colour of choice should either blend in seamlessly or provide a contrasting accent.
Factor in the lighting of the space: Lighting can affect how colours appear, so it's important to consider how your skirting boards will appear under different lighting conditions.
Take into account the style and age of the building: The style and age of a building can give you a clue about which colours will complement it.
Consider the skirting board material and finish: The material of your skirting will affect how the colour will look.
Consider conforming to a colour palette: You can find many curated colour palettes for home interiors which provide colour wheels to show how varying sets of colours such as white, beige and grey interact perfectly.
Test the colour before applying: It's always a good idea to test a small patch of the skirting board before committing to the full project.
Make a decision: With all these factors in mind, you are now expertly informed to choose the best colour for your skirting boards for a fresh and updated look in your space.
Skirting Board Paint Calculator
Skirting Board Dimensions
The Best Paint For Skirting Boards And Door Frames
If your skirting boards and door frames (architraves) are both constructed of MDF, using the same paint is ideal. We recommend Dulux Diamond Satinwood for skirting boards an door frames.
The satin finish will provide a consistent soft sheen across the trim mouldings in your room, and softly bounce light around other interior elements in a diffused fashion.
You can also use the same paints for your window boards, wall panelling, dado rail, picture rail and all trim mouldings.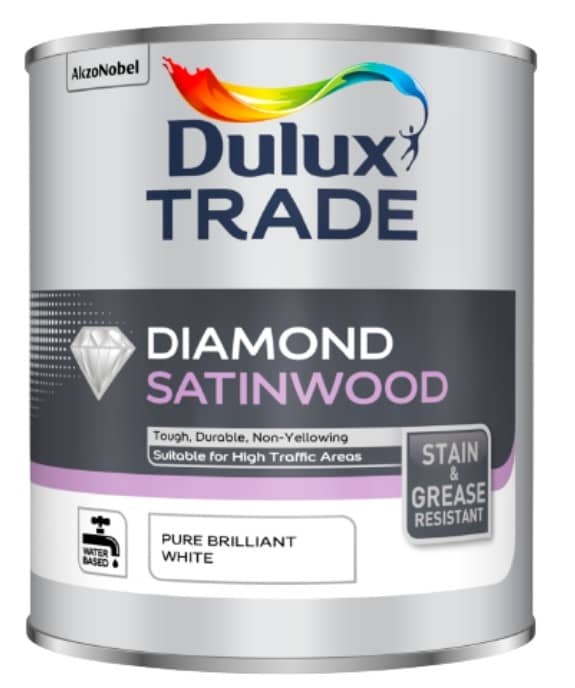 Conclusion: Our Top Pick For The Best Paint For Skirting Boards
When painting your skirting boards (and architraves for that matter), we'd recommend opting for the Dulux Diamond Satinwood water-based satin finish as you get the best of gloss and eggshell.
You'll end up with a solid colour for your skirting boards with a slight sheen and a hard-wearing finish that suits today's modern interiors and withstands wear and tear well.
You won't have a hard time maintaining it either as it's easy to clean and moisture-resistant.
But don't just take our word for it. In the end, it comes down to personal preference. Remember, it's your home and you have to live in it!
FAQ
Is There a Specific Skirting Board Paint?
No, a specific paint for skirting boards does not exist. However, some paints are specially made to be resistant to knocks, scuffs and scratches which would be ideal for use on skirting boards which are placed in high foot traffic areas.
Does This Apply to Other Woodwork Around The Home?
Yes, all this information can be used as a guide for the rest of the interior woodwork around your home. For instance, this post can be used to discover the best paint for your matching skirting boards, door frames, architrave and even window boards etc.
Can I Use Normal Paint For Skirting Boards?
The type of paint best suited to use for your skirting boards depends on the material. Our MDF (Medium Density Fibrewood) Skirting Boards are manufactured using high-quality 100% softwood fibres, so standard wood paint will be perfect. However, avoid MDF and opt for Pine skirting if you plan to use a wood stain finish. As mentioned above, a specific paint for skirting boards does not exist, you should choose one with the properties best suited for the environment in which your skirting boards are placed (high moisture, light exposure etc.). Bear in mind MDF can absorb water from water-based paints, and this may result in swelling. Refer to our guide on painting MDF to avoid issues like this.
What Should You Paint Skirting Boards With?
The type of brush or applicator you should use for skirting boards depends on the shape of your skirting boards. Use a 2-inch brush for cutting in along the top edge of the skirting board and providing full coverage in detailed and flat areas. A 1-inch brush will help to get a crisp straight line in the corners. A mini-roller can provide a spray-like, consistent finish, but is only suitable for flat sections of skirting boards. If you are using water-based paint, use a brush with synthetic bristles as natural hairs soak up too much paint and apply it too quickly and unevenly.
How To Paint Skirting Boards With Carpet Down?
One way is to use painter's tape to cover the edge of the carpet and paint it the skirting boards carefully. Another way is to pull up the carpet and fold it back before you paint, and then put it back when the paint is dry. A third way is to use a carpet protector roll that covers your carpet and prevents paint spills.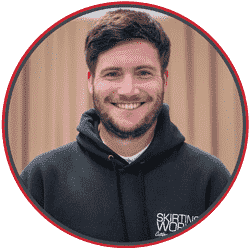 Lee Watkinson
Digital Marketing Director at Skirting World with 10 years of experience in Home Interiors & Manufacturing.