Black Skirting Boards | Inspiration | Aesthetic | Colour Palette
Black Skirting Boards | Inspiration
It can be difficult to break the mould and do something a little different when it comes to interior design. But making a bold statement can pay off. In this blog post, we're going to look at how you can use black skirting boards within your home.
5 Best Ways To Incorporate Black Skirting Boards
Let's jump straight into it so you can see whether you're brave enough to go with black woodwork in your home.
1. Contrasting Surfaces
It's easier than you think to incorporate black by choosing this colour for your skirting boards. Think black skirting boards with white walls (don't forget the door frames - make these black too to keep the flow).
By simply using a lighter colour on the walls, you can add contrast to the room. The point here is that we're trying to put emphasis on the skirting so this works particularly well if you have tall skirting with intricate details.
In most homes, it's a white wall and white skirting board scenario. Here you're breaking the mould so it will stand out straight away.
If you're not looking for a dramatic contrast like black and white, opt for a different shade on the walls.
Maybe a combination of black skirting boards with grey walls would work well and not draw as much attention immediately to the skirtings.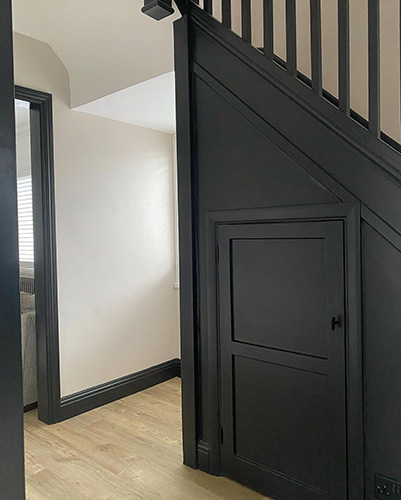 Image Credit: @honeycrockhome on Instagram
2. Include Black In Your Colour Scheme
By incorporating the colour black into your colour scheme for the room, you make it easier to include the skirting boards.
With a colour scheme, you generally have a dominant colour. Here, we're making that black.
Think soft furnishings and small interior decorations. Making these black as well as the skirting boards will help to tie the room together.
If a dark interior is what you're afraid of, choosing a much lighter colour as your secondary will keep the vibe on the lighter side.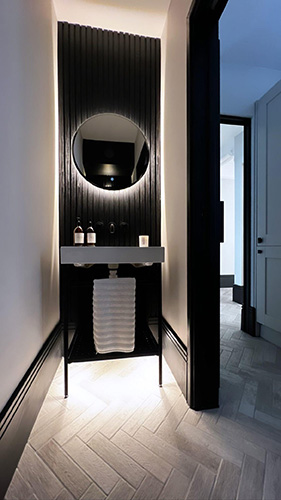 Image Credit: @livingwiththepope on Instagram
3. All Black
Unless you like the idea of living in a dungeon, you're going to want to make sure you're lighting is plentiful for this idea.
As well as the skirting boards, here we're painting the walls black too.
On first thoughts, the room is going to be very dark. But that doesn't necessarily mean it has to be gloomy.
Going bold with black walls and woodwork calls for bold colour choices elsewhere. Brightly coloured furnishings could help keep things interesting throughout the room.
For a truly black aesthetic, opting for black doors will truly put the emphasis on furnishings throughout the room.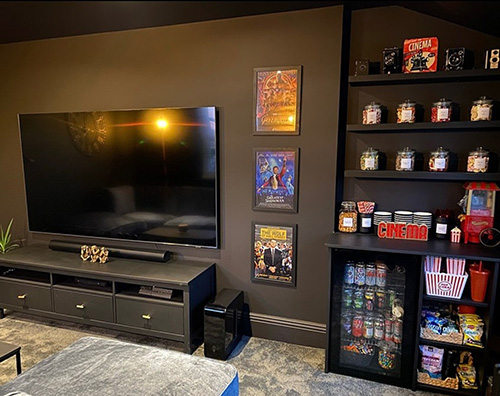 Image Credit: @_old_court_house_ on Instagram
4. Choosing A Shade Of Black
It's hard to picture, but believe it or not, there are actually different shades of black. Choosing the right shade can affect the end result on the feel of the room.
Most blacks will have a slight blue undertone which makes for a cooler finish. If you prefer warmer tones, go for a black with a brown undertone.
You should base the shade of black on the rest of the colours in your interior to make sure they compliment each other.
5. Cleaner For Longer
Making the mouldings in your home black can make cleaning and maintenance a little easier.
As opposed to white skirting boards, black ones do a better job of hiding scuffs and marks so cleaning them won't need to be done as often.
Due to where they are situated, skirting boards take a fair bit of abuse during their lives so painting them black will help to keep the maintenance schedule down.
For instance, skirting boards in a hallway will be subject to a lot of foot traffic making them likely to become marked over a short period of time.
Bonus Tip: you won't have to try and find out how to get black marks off skirting boards if they're already black!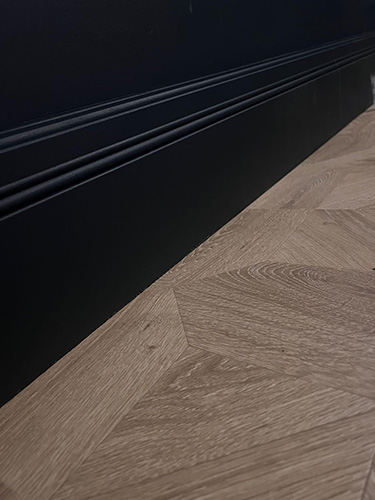 Image Credit: @renovatingknightsbridge on Instagram
Choosing A Black Paint
If you've decided you want to go ahead and paint your skirting black, the next thing to do is choose the best paint to use on them.
As well as choosing a shade, you'll need to choose between the following types of paint finishes:
Gloss tends to be the most popular option due to how hardwearing it is, but its high sheen feels traditional. Black gloss skirting boards would certainly add some definition and character to the walls.
Eggshell will give you a matt finish with almost no sheen so feels more modern in comparison.
For the best of both worlds, you can choose a satin paint.
As discussed earlier in the post, most black paints will have either blue or brown undertones. Blue offers a cooler finish whilst brown adds warmth to the colour.
Bare in mind that if you choose too light of a shade, you'll run the risk of getting paint that is more grey than black. We have covered grey skirting boards here.
Back To Black
If you were looking for inspiration to use black on your skirting boards, hopefully we've helped you to make your decision.
If you do take the leap, be sure to tag us in the photos on Instagram using our handle @skirtingworld. We often feature images that look the part.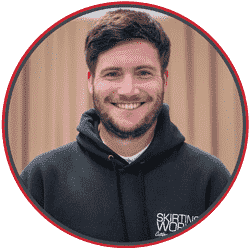 Lee Watkinson
Digital Marketing Director at Skirting World with 10 years of experience in Home Interiors & Manufacturing.