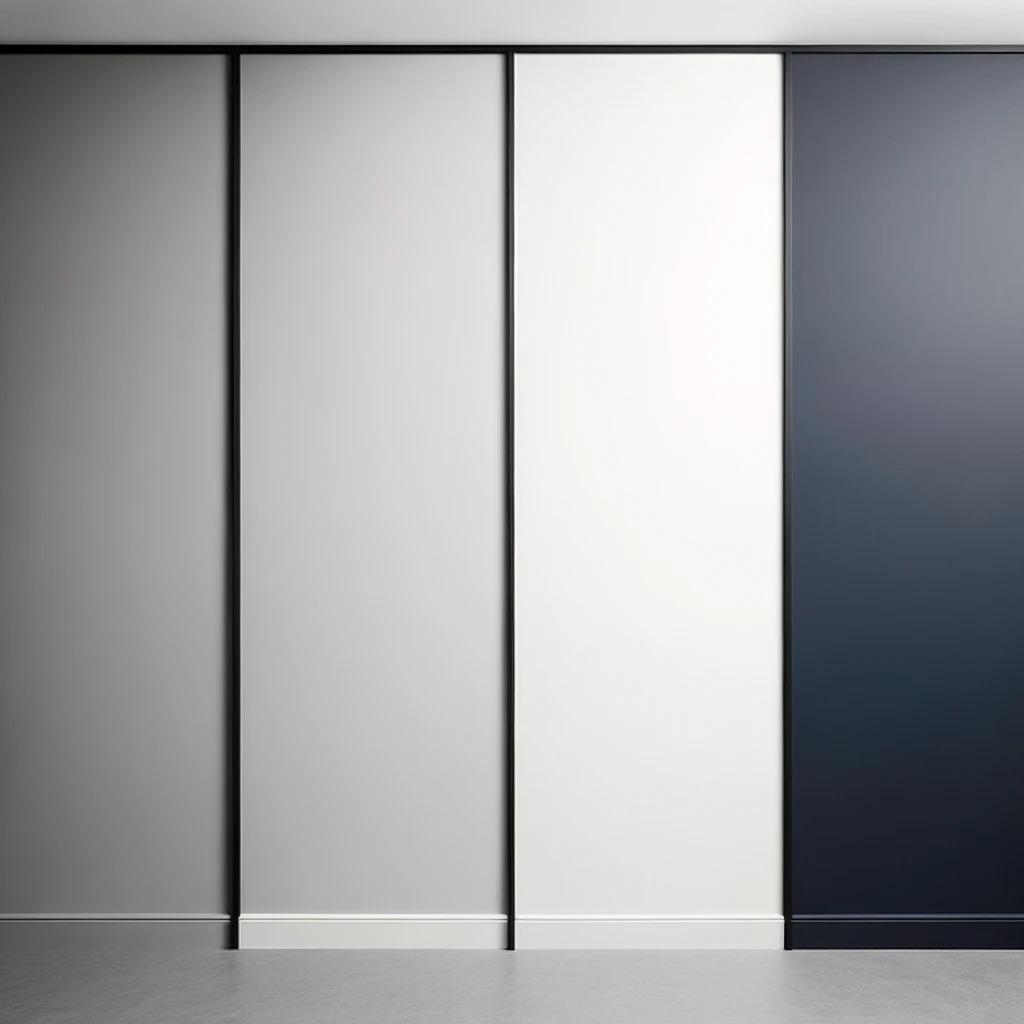 The colour of your skirting boards has a huge impact on the aesthetic of your room.
Deciding on a colour to choose is stressful and overwhelming!
With this comprehensive guide, you'll learn precisely which colour to paint your skirting boards, using easy to understand interior design principles for a balanced colour profile.
Coloured Skirting Boards
White skirting boards have traditionally been the norm worldwide, however recent trends like 'colour drenching' have seen an emergence in black, grey, navy and even orange skirting boards.
There's a colour for every aesthetic and vibe, but choosing a colour for your interior style can be difficult.
Choosing The Best Colour For Your Skirting Board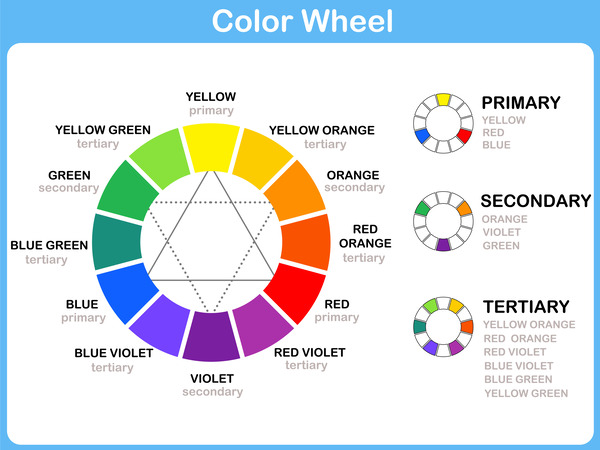 To understand which colours work well together and create a cohesive look, you can use a colour wheel. A colour wheel is a tool which helps you understand how colours relate to each other (like a compass for colours).
A colour wheel can help you formulate a harmonious colour scheme for your skirting boards and walls by choosing colours close to each other on the wheel, or for a bolder, more dynamic aesthetic choosing colours that are further apart.
The colour wheel is an essential interior design tool for designers, so keep it close!
The Best Colour Schemes For Skirting Boards and Walls
Skirting Board and Wall Colour Visualiser
Brainstorm your skirting board and wall colours with this handy tool
---
Monochromatic Coloured Skirting Boards
Monochromatic schemes for skirting boards are amongst the most popular, you choose one colour for the walls and then use a slighter lighter or darker shade of that same colour for the skirting boards. This creates a harmonious look, that's easy on the eyes.
When opting for a monochromatic scheme, consider playing with textures and finishes (matte vs. glossy) to add depth and interest to the space.
Monochromatic Coloured Skirting Board Schemes
| | | | | | | | | | |
| --- | --- | --- | --- | --- | --- | --- | --- | --- | --- |
| Scheme | Classic White | Soft Gray | Navy Elegance | Taupe Serenity | Warm Terracotta | Muted Lavender | Coffee Tones | Chic Blush | Calm Teals |
| Wall Colour | Off-White / Pale Grey | Light Grey / Silver | Light Navy / Pale Blue | Soft Taupe / Beige | Peach / Light Terracotta | Lavender / Lilac | Latte / Mocha | Pale Pink | Pale Aqua / Soft Teal |
| Skirting Colour | Pure White | Charcoal Grey | Deep Navy Blue | Dark Taupe | Burnt Orange / Rust | Deep Purple | Dark Espresso Brown | Dusty Rose | Deep Teal |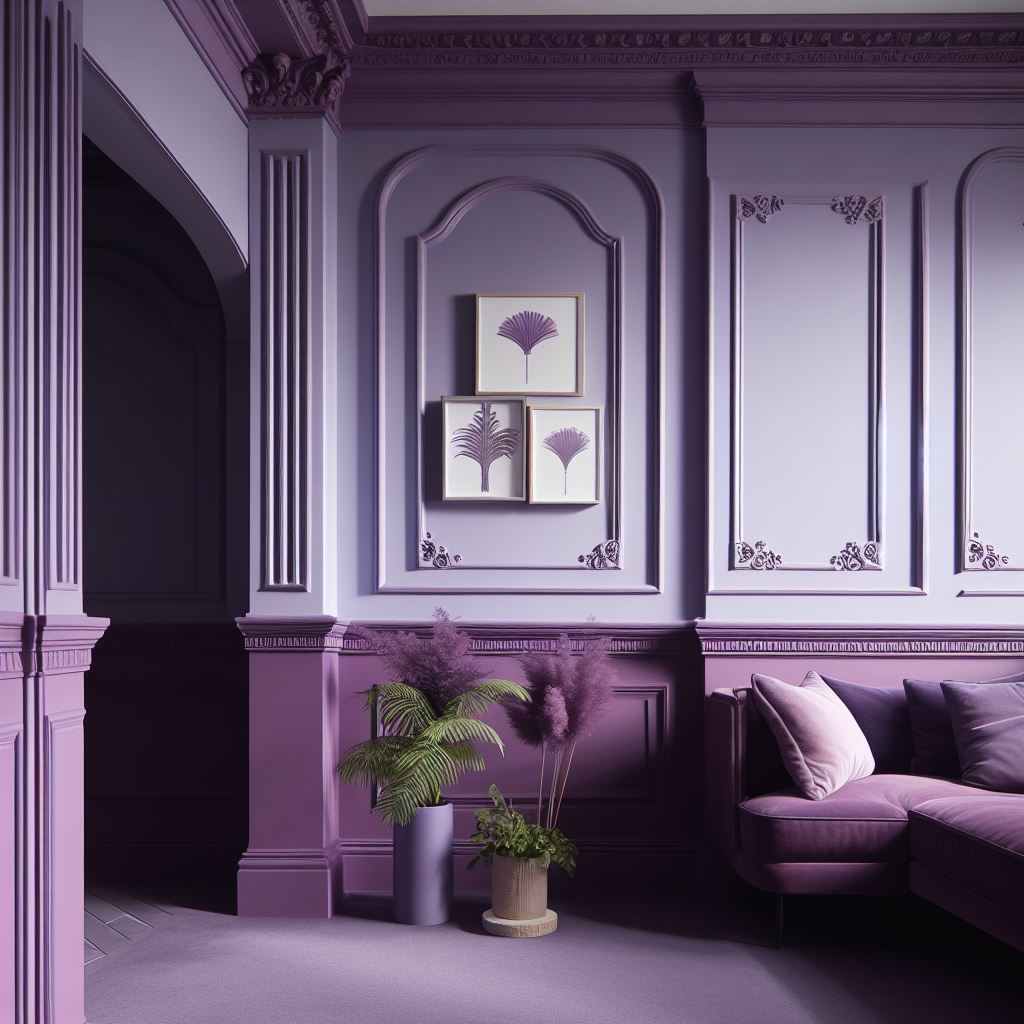 ---
Analogous Coloured Skirting Boards
Analogous colour schemes bring together hues that sit side by side on the colour wheel, resulting in a harmonious blend. With such schemes, interiors radiate a seamless transition of colours, exuding both warmth and cohesiveness.
Selecting the right analogous colours can imbue a space with a specific mood: from the calmness of adjacent blues to the vibrancy of reds and oranges. This fluid transition between shades adds depth without overwhelming the senses.
Analogous Coloured Skirting Board Schemes
| | | | |
| --- | --- | --- | --- |
| Scheme | Ocean Blues | Grassy Greens | Sunset Warmth |
| Wall Colour | Soft Blue | Mint Green | Peach |
| Skirting Colour | Turquoise | Pale Yellow | Red-Orange |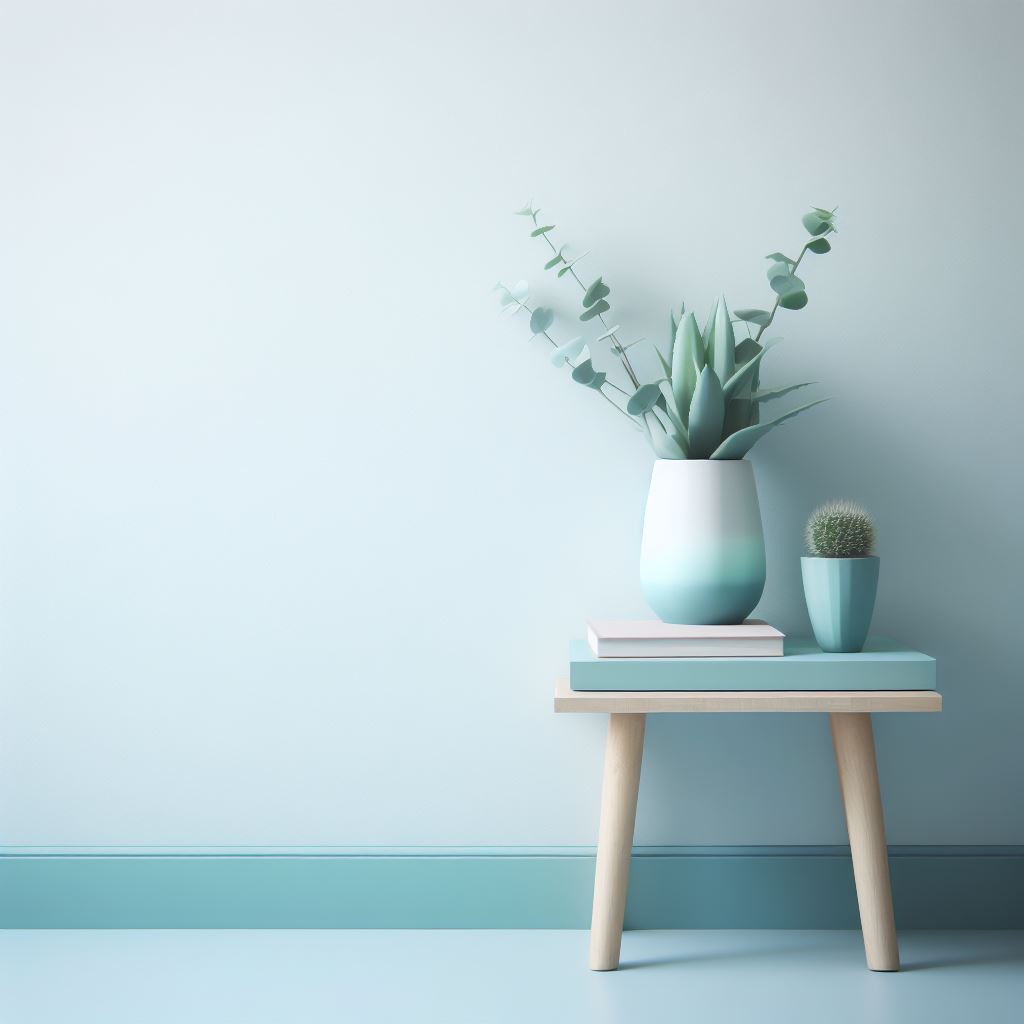 ---
Neutral Coloured Skirting Boards
Neutral colour schemes are foundational in interior design, crafting spaces that are both versatile and inviting. Ranging from deep blacks to pristine whites, they serve as a canvas, either being elevated by decor or standing strong on their own.
Neutral Coloured Skirting Board Schemes
| | | | | | |
| --- | --- | --- | --- | --- | --- |
| | Deep Black | Pristine White | Cool Grays | Classic Beige | Earthy Browns |
| Wall Colour | Jet Black | Snow | Silver | Bone | Latte |
| Skirting Colour | Charcoal | Off White | Gray | Desert Sand | Saddle Brown |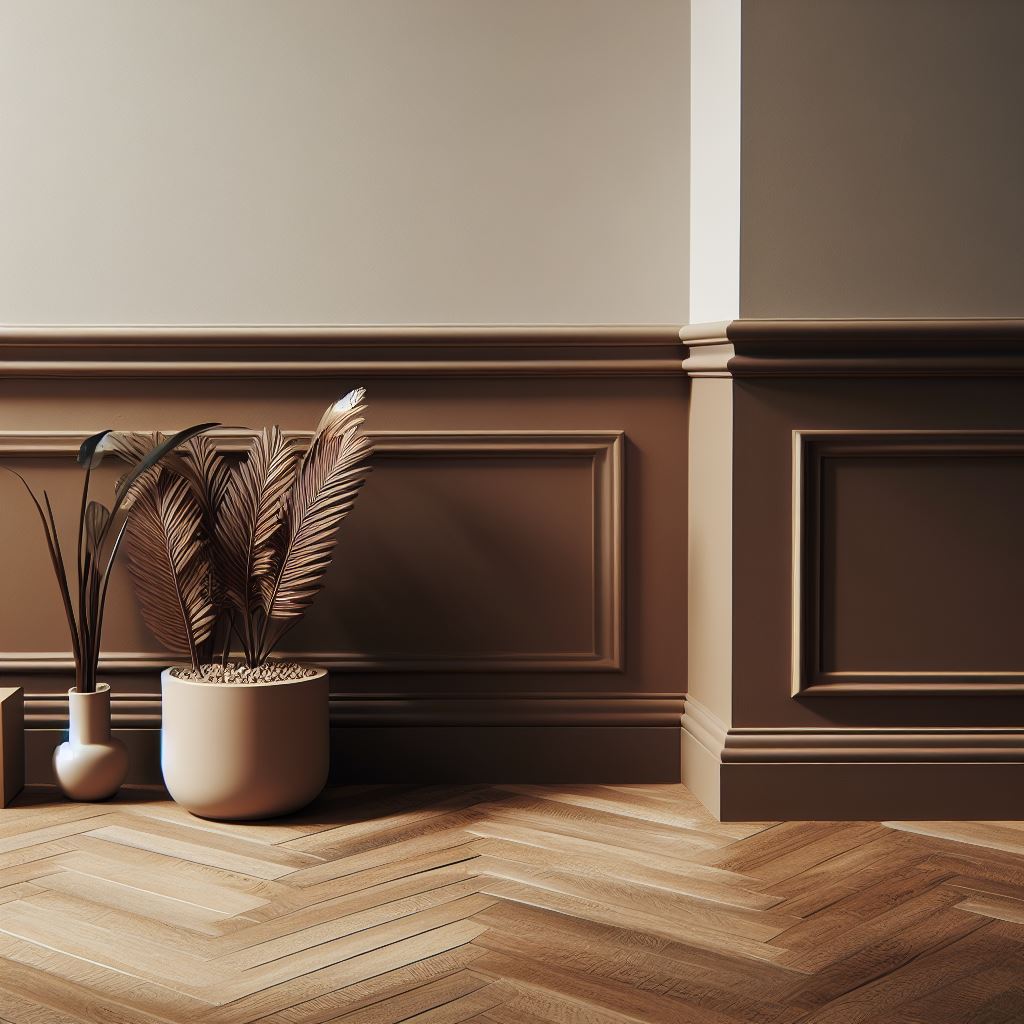 ---
Popular Skirting Board Colour Schemes
Some colour schemes never go out of style, offering timeless elegance and versatility. Here are common skirting board colour schemes that bring together popular choices:
Popular Skirting Board Skirting Schemes
| | | | |
| --- | --- | --- | --- |
| Scheme | Classic Black & White | Shades of Gray | Navy Elegance |
| Wall Colour | Crisp White | Lighter Grey | Navy Blue |
| Skirting Colour | Black | Darker Grey | White |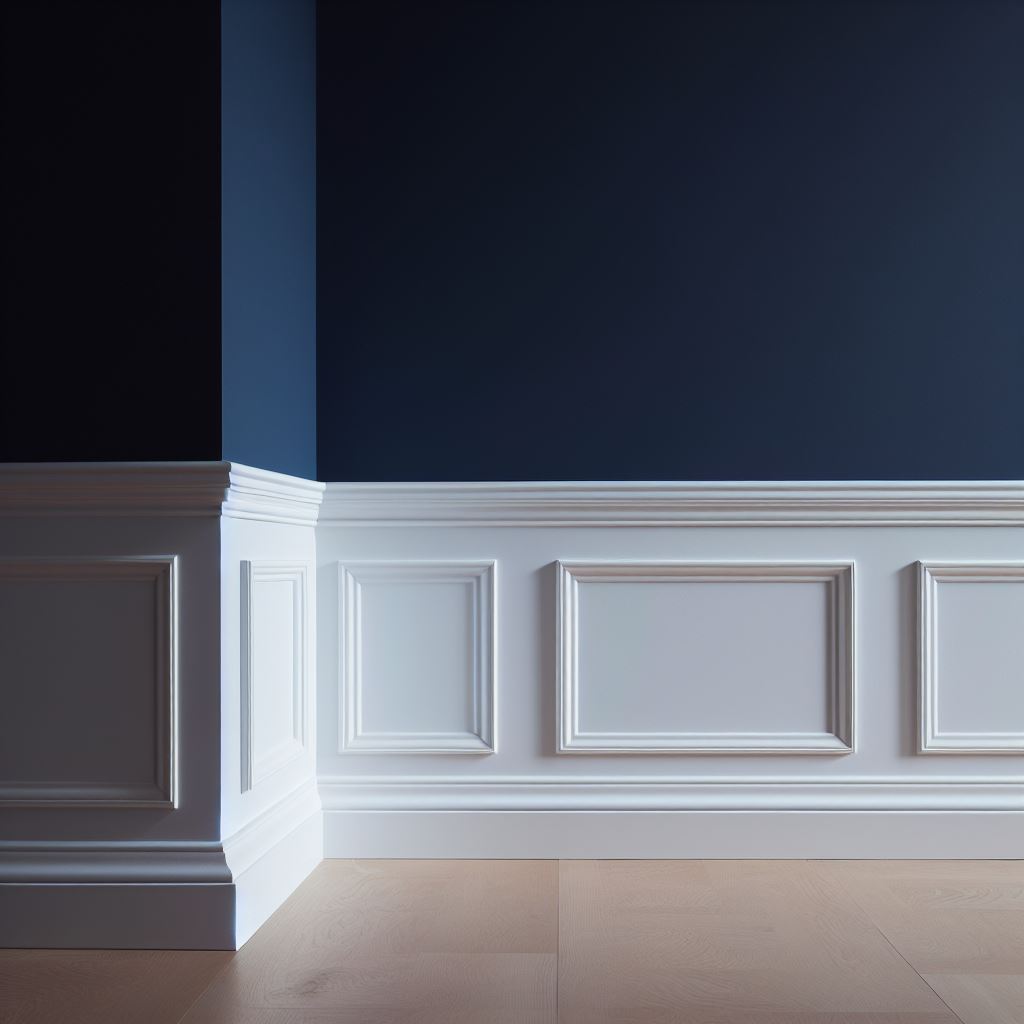 ---
Solid Coloured Skirting Boards
Some interior design schemes embrace simplicity and cohesion by using a single colour for both skirting boards and walls. Here are common solid colour schemes that create a unified and elegant look:
Solid Coloured Skirting Board Schemes
| | | | | |
| --- | --- | --- | --- | --- |
| Scheme | Classic Black | Crisp White | Timeless Gray | Navy Charm |
| Wall & Skirting Colour | Black | White | Gray | Navy Blue |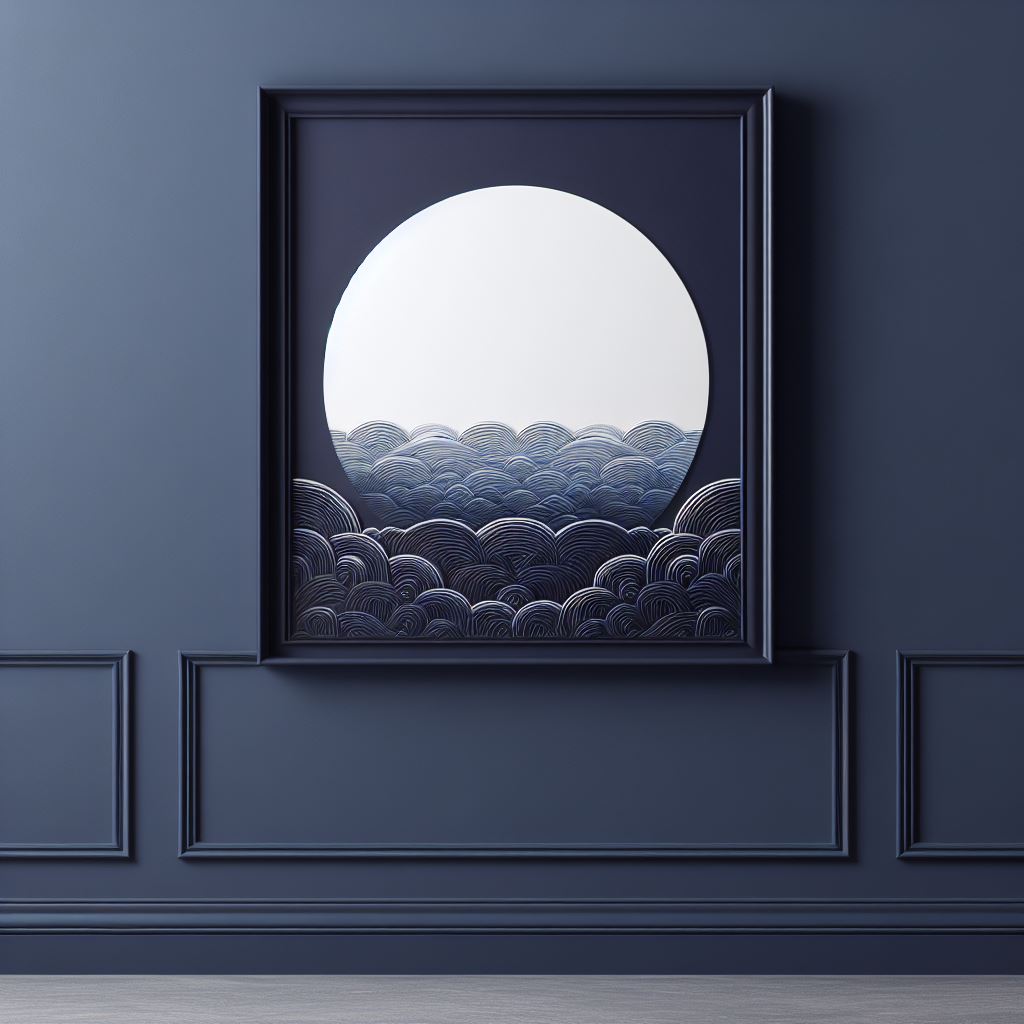 ---
Dark Skirting Boards and Light Walls
Interior design is all about balancing colours and creating a harmonious space. One striking and timeless choice that designers often consider is the combination of dark skirting boards with light-coloured walls. This choice can dramatically impact the look and feel of a room in several ways: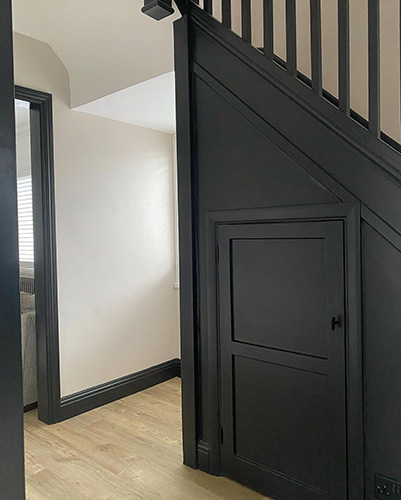 Contrast and Elegance: Dark skirting boards against light walls create a strong visual contrast. The deep, rich colour of the skirting boards draws attention, adding an element of elegance and sophistication to the space.
Height and Space: This combination can make a room feel taller. The dark skirting boards ground the space, while the light walls create an illusion of height, making the room appear more spacious and open.
Focus and Framing: Dark skirting boards act as a natural frame for the room. They emphasize the architectural details and draw the eye to features like windows and doorways, adding character and depth to the design.
Versatility: Dark skirting boards can work well with a variety of wall colours, including soft neutrals, pastels, and even bolder shades. This versatility allows designers to create different moods and styles within a room.
When opting for dark skirting boards and light walls, it's crucial to consider factors like room size, natural light, and personal preferences. The right balance of colours can transform a space into a work of art, offering both visual interest and a welcoming atmosphere.
FAQ
Should Skirting Boards Be The Same Colour As Walls?
It's a matter of personal preference, but generally, it's recommended to choose a slightly different colour for the skirting boards. This helps to create some visual interest and make the skirting boards stand out. Painting skirting boards the same colour as walls can make the room look bland or flat.
On the other hand, using too much contrast can be overpowering or make the room look too busy. A good rule of thumb is to choose a colour that is two shades lighter or darker than the wall colour.
What Colour Skirting Boards With White Walls?
With white walls, a very popular choice for skirting boards is a light shade of grey. It provides enough contrast to make the skirting stand out, but it's subtle enough to look cohesive with the white walls. Another option is a light shade of beige or taupe, which will add a bit of warmth to the room. Another option is to use a shade of white that's slightly different from the white on the walls. This will add interest without clutter.
Skirting Board Colour For Grey Walls?
For grey walls, a popular option is to use a white skirting board. This provides a nice contrast and makes the room look light and airy. Another option is to use a slightly darker shade of grey for the skirting boards. This is called a tonal colour scheme, and it's a popular choice for modern, minimalist interiors. You could also choose a colour that complements the grey, like a light blue or green. This can add a subtle pop of colour to the room without looking too bold.
What Colour Goes With Grey Skirting Boards?
For grey skirting boards, white is always a safe choice and looks classic and clean. If you're looking for something with a little more interest, shades of beige, taupe, or pale yellow work well. You could also consider a pale pink or lavender shade for a soft, feminine feel. Other options that work well with grey skirting boards are pale mint, green or light grey blue, for a sense of calm and serenity in the room.
What Colour To Paint Skirting Boards And Door Frames?
Generally, the rule of thumb is to paint skirting boards and door frames a shade that's lighter than the wall colour, to create a sense of height and space in the room. The specific colour you choose depends on the overall style and aesthetic of the room. For a classic, traditional look, white or off-white is a popular choice. For a modern, minimalist look, you could consider shades of grey or even black. For a more eclectic look, you could consider bolder colours, like deep red, forest green or navy blue.
Should Skirting Boards And Architraves Colour Match?
The general rule of thumb is that skirting boards and architraves should be painted the same colour. This creates a sense of harmony and continuity in the room, making the design look intentional and cohesive. However, there are exceptions to this rule. For example, if you're going for a bold, eclectic style, you could paint the skirting boards and architraves different colours. Just make sure that the colours are complementary and that they don't clash with each other or with the wall colour.