Window Board Buying Guide | Depth | Thickness | Length | Finish
Buying Guide | Window Boards Explained
When it comes to window boards (some people call them window sills), we already have a wide range of sizes for you to choose from.
But don't think that that's all we offer! If you have a custom size in mind, we'll accommodate it for you!
This post will help you order a window board by selecting our standard sizes. We'll explain every option so you can be sure you're ordering the right thing!
Let's get into it.
Note: as standard, we only offer MDF window boards (get in touch if you require another material).
The Depth Option
This will be the first option you are faced with when landing on our MDF Window Board product page.
When selecting the depth for your window board, you'll see 6 options to choose from.
Which Depth Should You Choose?
The depth option really depends upon how deep your window reveal is. For example, if your window reveal is 220mm deep you'll want to choose the 250mm depth.
This ensures that the window board will fully cover the reveal and 'overhang' on the front edge. Almost every window board you see installed will have an overhang and it's generally around 30mm.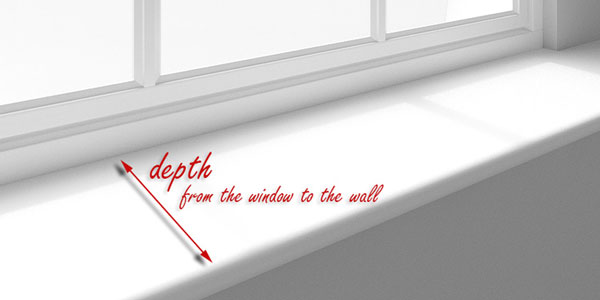 Image showing what the depth option selection changes
Standard Sizes - 150mm To 400mm
Our standard depths that you are able to choose from are as follows:
150mm
200mm
250mm
300mm
350mm
400mm
We have found that this covers the majority of sizes that are found within the UK.
However, don't be put off if you can't see the depth you need or if you need something completely different. We specialise in bespoke window boards so we can pretty much do any depth you require!
The Thickness Option
Once you've selected a depth for your window board, the next option is to choose a thickness.

There are only 2 options to choose from when selecting a thickness for your window board.
Which Thickness Should You Choose?
Choosing a thickness can be down to personal preference.
However, you will need to make sure that the thickness you choose will definitely fit into the window reveal - check this before placing an order.

Image showing what the thickness option changes on the window board
18mm And 25mm Thickness
As standard, the only thickness options you can choose for window boards are 18mm and 25mm.
We have found that these are the most commonly requested sizes hence why we don't offer any others on the website.
However, we've made other thicknesses for window boards in the past such as 15mm and 30mm so we can still pretty much do any size you require. Just enquire beforehand and we'll talk you through it!
The Length Option
Now it's time to choose the length of your window board. You'll need to measure the window reveal in order to know what length to choose.

There are 6 options to choose from when selecting a window board length
Which Length Should You Choose?
Before choosing a length, you'll need to measure how wide your window reveal is. You can then use this calculation to choose one of our length options.

Standard Sizes - 600mm To 4200mm
We offer 6 different length options as standard:
600mm
1200mm
1500mm
2400mm
3000mm
4200mm
Generally speaking, these lengths are perfect for most customers. If you have the facilities to do so, you can order a length longer than you need and cut it to the exact size on site.
4200mm in length is our longest - unfortunately, we can't get anything longer. However, we can do any size underneath that.
For example, if you need a window board that is 1975mm long we can cut this down for you. All we do is charge for the size above (in this case it would be a 2400mm length). Just get in touch to request this.
The Finish Option
Once you've chosen all your sizes, you need to choose whether to have the window board undercoated, primed or unprimed!

You'll see our 2 standard options when selecting the finish option - primed and unprimed
Edit: we now offer an undercoated finish too!
Which Finish Should You Choose?
The finish option is simply down to personal preference. If you don't want the hassle of priming and undercoating the window board yourself, choose our undercoated option.
Unprimed
If you choose the unprimed option, you'll receive a window board that doesn't have any type of finish applied to it. It will be raw MDF which is a sand like colour.
Once you receive the unprimed window board, you will need to add a coat of primer and a coat of undercoat before you apply your final paint finish.
Primed
If you select the primed option, we'll add 1 coat of water based primer to the boards (sanding beforehand).
This not only saves time for you but also gives you a surface ready to sand, undercoat and paint.
Undercoated
Choosing this option is recommended. We sand the window boards, add a layer of primer, sand them again and finally add a layer of undercoat.
You can expect to receive a board that is ready for installation and painting (should you so wish!).
Add Your Window Board To The Cart
Once you've made all your selections, you're ready to proceed to the cart!
Just type the number of window boards you need into the quantity box and click the 'Add to Cart' button.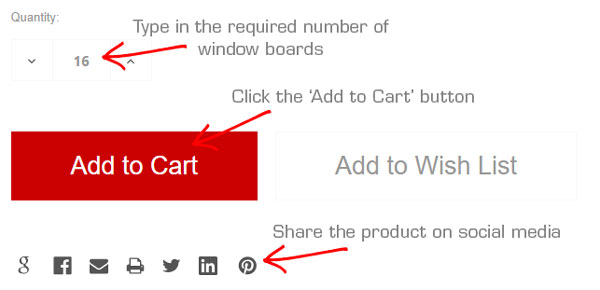 -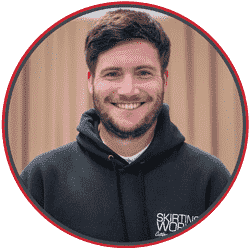 Lee Watkinson
Digital Marketing Director at Skirting World with 10 years of experience in Home Interiors & Manufacturing.