How To Video Round Up
In this post, we're going to show you all the 'how to' videos that we have created. Simply click play to start watching and you can even read the full length blog post on the topic by clicking the link below the video!
How To Fix A Skirting Board To A Wall Video
Fixing a skirting board to a wall
This video covers everything to do with fitting skirting boards to walls.
We take you through the steps from preparing the wall to actually installing the skirting. We also give you a list of everything you should need to carry the work out.
You'll also find out 4 different ways you can stick skirting boards to the wall!
How To Clean Your Skirting Boards Video
In this video, we discuss the quickest and most efficient method to clean skirting boards.
It includes everything you'll need to get going.
How To Fit Plinth Blocks And Rosettes Video
Fitting plinth blocks and rosette blocks
This video starts by listing everything you'll need to get started.
It's then a step by step guide on how to fit plinth blocks & rosettes - from measuring to installing them. You'll even see what the finished product looks like!
How To Do An External Mitre On Skirting Boards Video
Cutting an external mitre on skirting boards
Again, this video includes a list of everything you need to get started!
You can then follow the step by step guide to help you achieve a clean external mitre when fitting your new skirting!
How To Scribe Skirting Boards To The Floor Video
Scribing skirting boards to the floor
Scribing your skirting boards is handy if they don't fit flush to the floor when installing them!
Check out this video to see how we do it!
How To Remove Old Architraves Video
Want to add a fresh new look to your home? New architraves will help to enhance the look of your doorways.
Check out our video above on how to remove your old ones easily!
How To Remove Old Skirting Boards Video
This is another easy step by step guide that you can follow should you need to remove an old skirting board from a wall.
How To Do An Internal Mitre Video
Internal mitres on skirting boards
When fitting skirting boards, you'll have to mitre them at corners. This video covers internal mitres and is an easy guide if you're going to be carrying out the work yourself.
How To Join 2 Pieces Of Skirting On A Flat Wall Video
Joining 2 pieces of skirting board on a single flat wall
This video will help you if you have a really long wall that requires more than 1 piece of skirting to cover the length.
We show you a straight cut and a mitre cut so that you have more than 1 option should you need to do this.
How To Fit Skirting Boards Around A Bay Window Video
Fitting a skirting board to the wall of a bay window
We get asked this a lot so we thought dedicating a video and blog post to the subject was a must!
We cover a few different options that can be used in order to bend skirting boards making them able to be fitted to a curved wall (just like a bay window).
Kerf cuts are an option but best left to a skilled professional. If you have the time, adding weight to the middle of the skirting whilst it is suspended at both ends is an easier (yet still effective) option.
How To Cut Skirting Boards Video
In this video, we show you the different types of cuts that are often made on skirting boards and how to do them.
How To Sand Skirting Boards Video
This video is an in depth look at sanding skirting boards.
Not only do we cover the steps you can take to sand down skirting - we also cover why you would need to do this (for instance whether you are installing new ones or painting over existing skirting boards).
How To Caulk Skirting Boards Video
Adding caulk to where the skirting boards meet the wall will help to hide any unsightly gaps that can appear over time or during installation.
How To Paint Skirting Boards Without Getting Paint On The Wall Video
Painting skirting boards without getting paint on the wallThis is a handy guide if you're planning on redecorating and want a professional finish without having to pay someone else to do it for you!
How To End Skirting Boards Video
This is a great video if you find that your skirting board needs to end before reaching another skirting.
Most of the time, a skirting board finishes at another skirting board or at an architrave. However, if this is not the case you can check this video out to see what your options are.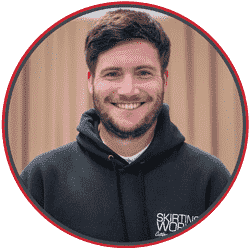 Lee Watkinson
Digital Marketing Director at Skirting World with 10 years of experience in Home Interiors & Manufacturing.