Wall Panelling Ideas | 10 Timeless Styles To Try | Benefits
Wall Panelling Ideas
Your walls are the biggest part of your home, find out how to make them the boldest with wall panelling.
Wall panelling as an interior asset is an underrated feature interior designers are using to give their walls the attention they deserve. The sense of weight and gravitas granted to interior spaces with wall panels is undeniable.
The latest trends show that homeowners are ditching the wallpaper and paint and opting for panel moulding to add some life to tired walls and make use of empty space.
With endless options for room layouts, aesthetics, and colour palettes, you may find yourself overwhelmed with choices.
To help you get started, take some inspiration from these tailored wall panelling projects.
So now we can jump into some wall panelling ideas for us within your home. We've listed 10 of our favourite ways to use it throughout your home.
Over at Wall Panels World (our sister company), we offer a huge array of wall panelling options - go check it out!
1. Frame Artwork And Pictures Within Wall Panelling
If you want to create a feature wall, this is the place to start. Wall panelled artwork is a bespoke approach to showcasing your best artwork on your most exposed wall.
How to pull it off:
Start by measuring the height and width of the artwork you want to feature.
Decide how much empty space you want around the artwork for optimal effect and cut panel moulding respectively.
Attach the panel moulding to the wall, making sure it's level.
Paint the entire frame, including the inside edges, the same colour as the wall or a contrasting colour for a more dramatic effect.
Hang the artwork within the frame using picture hangers or adhesive strips.
Pro Tip: Multiply your artwork height and width by 1.20 to calculate a 20% larger wall panelling frame. And respectively for 10% (1.10), 15% (1.15), 20% (1.20), 25% (1.25), 30% (1.30) etc.
Example calculation for a 20% larger wall panelling frame:
Artwork Dimensions: 80cm x 30cm
Wall Panelling Frame: 92cm x 36cm
Height: 80cm x 1.2 = 92cm
Width: 30cm x 1.2 = 36cm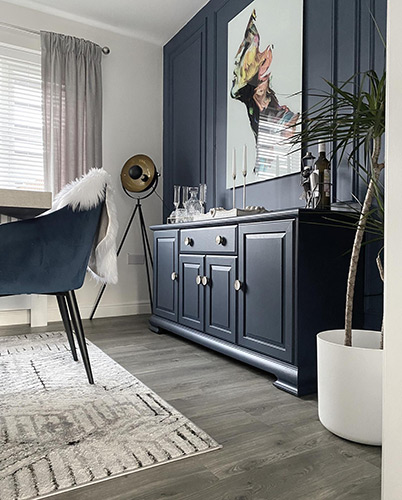 Image Credit: @amelias.homestyle.x on Instagram
2. Create A Panelled Feature Wall
Everyone loves a feature wall and you've more than likely got one at home.
Panelling one wall can turn an ordinary looking room into something more.
For example, a plain box room could benefit from a focus point and that can be achieved with a vast array of panelling options.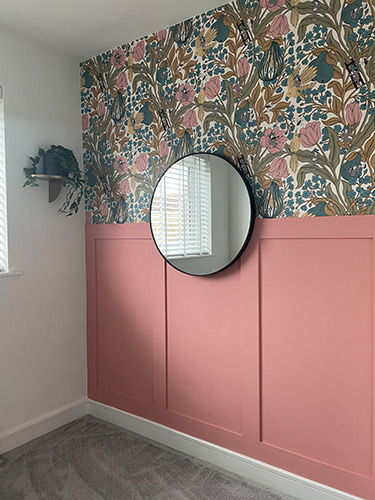 Image Credit: @hayley_homeandfamily on Instagram
3. Panelling Can Be An Alternative To Tiling
In most bathrooms you'll find tiles. However, wall panelling can be used instead of tiles to make a real statement.
Plus, you could add a narrow shelf on top of the panelling for added storage options (think toiletries or even candles).
Some people worry that wood panelling in a bathroom will warp but there's no need to worry if you choose the right materials.
For instance, our MDF is all moisture resistant making it an ideal choice of material for such a project.
Once the panelling is painted, this adds another layer of protection for the material too.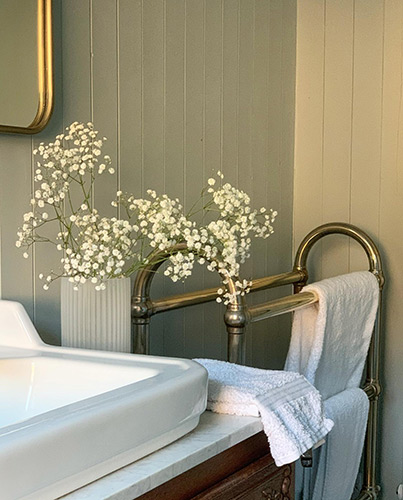 Image Credit: @katielouisaclarke on Instagram
4. Create Open Style Shelving Combined With Panelling
It's the norm to have cabinets all over the kitchen, but that doesn't always mean you have enough space for everything!
Why not incorporate open shelving into wall panelling? You'll create a beautiful aesthetic as well as increasing your storage space.
It will also feel more open as the shelves don't take up as much wall space as a cupboard.
If you paint the panelling and shelving the same colour as your cupboards, you'll create a seamless look and allows the shelving to almost disappear.
Add a peg rail underneath the shelving to keep mugs and frequently used cutlery within quick and easy reach.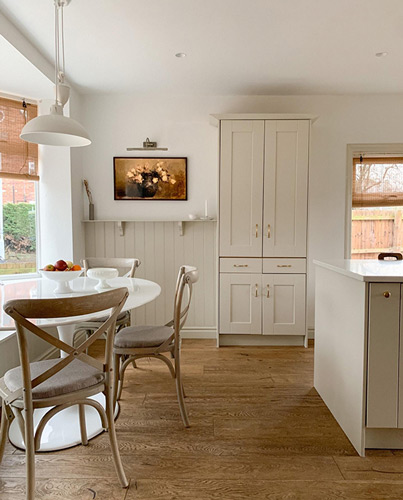 Image Credit: @holly_homestyle on Instagram
5. Use One Colour For The Entire Room
Using one colour for the whole room can be daunting, but with panelled walls you needn't worry. The panelling will help to add light and shade to what would have been a plain flat wall.
When we say the whole room, we're specifically talking about the walls and woodwork. Think skirting board, architrave, window boards - basically everything that isn't the ceiling, floor or furnishings.
It's a bold move but let yourself go with the colour choice and we're sure you won't be disappointed.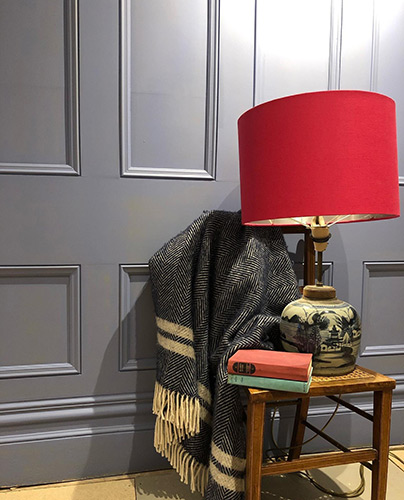 Image Credit: @hannahandthehouse on Instagram
6. Exchange Your Headboard For Wall Panels
Instead of having a headboard at the top of your bed, panel the wall behind where the bed sits.
This will give the illusion of a headboard being present but can be much larger and more decorative if required. It's the perfect upgrade for a divan bed!
If you really want to make a statement out of it, panel all the way up to the ceiling.
Don't worry about it being uncomfortable - this is where all those cushions on your bed that are normally cast aside come into play!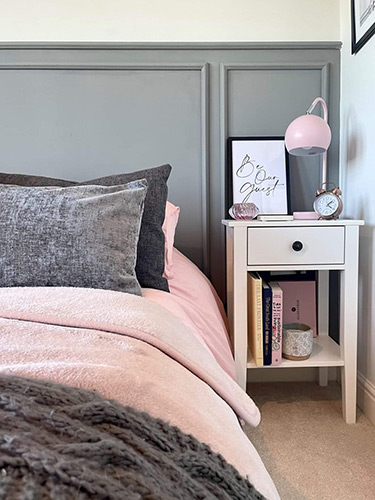 Image Credit: @the.sussex.house on Instagram
7. Simple Doesn't Mean Boring
Some people think traditional and decorative when they hear wall panelling. However, that doesn't have to be the case.
Using a simple shaker style can add a modern touch to the room and draw attention to the walls.
Even with the simplicity, it adds a touch of something more that can be incorporated into many spaces.
Plain square battens are simple but can be used to make striking panelled walls.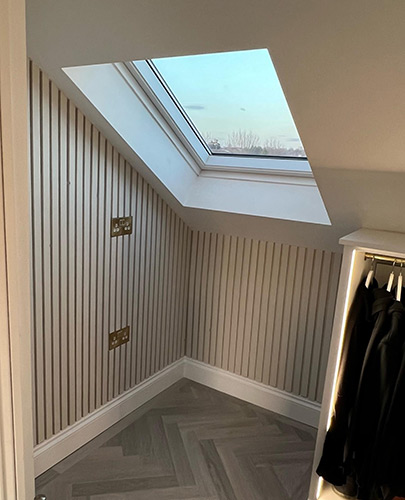 Image Credit: @the_house_that_jen_built on Instagram
8. Squares Can Add Character
If you really want to make a wall stand out, using a grid style pattern with squares can have a huge effect.
Simply creating squares with plain panelling adds depth to the wall.
Introduce a decorative infill to each square and you add character and class.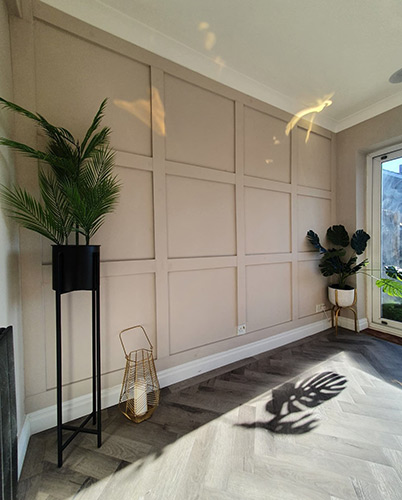 Image Credit: @champagnehouse_proseccobudget on Instagram
9. Make Your Room Seem Taller
If you already have picture rail running around your room, great. If not, this is the perfect way to incorporate it.
By panelling all the way up to the picture rail, you create an illusion of your walls being taller than they actually are.
Keep the picture rail and wall above white and add a contrasting colour to the panelling to break up the aesthetic and really highlight the panelling.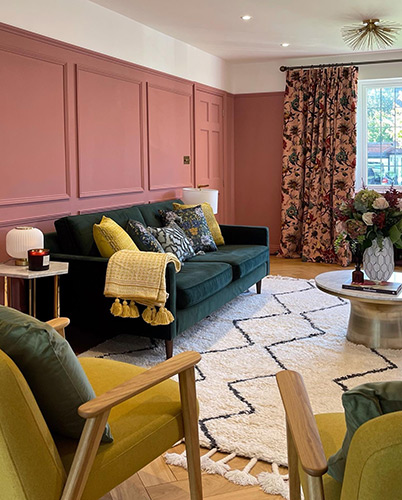 Image Credit: @houselust on Instagram
10. Vary The Style Between The Top And Bottom
If you're planning on panelling the entire wall, why not use 2 different styles?
You could have a simple shaker style up top and a more decorative Jacobean style below, broken up by a dado rail.
It doesn't have to be this way around and the styles can be completely different, but it can certainly change the character of a room.
Incorporating 2 styles is also a good idea if you're struggling to choose between them!
Walls count as a large part of most rooms but they are often left looking unloved. Try these wall panelling ideas to add some life to tired walls or make use of an empty space.
Image Credit: @burbagehousetohome on Instagram
Wall Panelling Benefits
First off, it will help with insulation within the room.
This should be obvious as you're essentially adding more material to the walls making them thicker which in turn boosts the insulating properties of the wall.
We're not saying this is the most effective way of insulating but it does offer some form of insulation.
Secondly, if your walls are untidy then panelling will no doubt give them a new lease of life.
The results are more prominent when you panel the whole wall as opposed to using half wall panelling.
It also adds some level of protection to the walls, avoiding general wear and tear from family life.
It's Pretty Easy To Fit
In most cases, wall panelling is easy to fit without the effort of a full scale renovation.
For instance, our wall panelling kit is super simple to fit. It's a half wall panelling option for a more traditional style panelling and adds class to any room.
The kit is supplied in lengths that you use to create the effect seen below (self assembly). It includes skirting board, dado rail, square panel pieces and panel moulding.
Image Credit: @mnhomereno on Instagram
But we also offer plain square panelling lengths if you want to try your hand at a more modern style like the picture below.
Image Credit: @our_pyrford_renovation on Instagram
Another easy option is using our panel mouldings to create a panelled effect with a little less work required. You can see this below.
Image Credit: @the_disco_house on Instagram
Get Panelling!
Hopefully, we've given you some inspiration to truly revamp your walls.
In our opinion, the 10 ideas we have listed are the most used and definitely stand out when installed.
Whether it's traditional or contemporary, there's a style here for any home.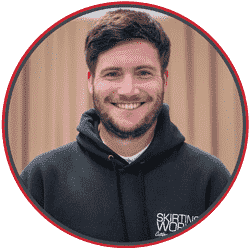 Lee Watkinson
Digital Marketing Director at Skirting World with 10 years of experience in Home Interiors & Manufacturing.