Choosing An Internal Door | Inspiration
It's an exciting time - we've recently started stocking internal doors! Because we're going to be offering a lot of options, we thought we'd let you know our thoughts when it comes to choosing the perfect door.
Pairing With Skirting & Architrave
We'll put this first seeing as skirting boards and architraves are the foundation of our company!
We've put together some images of our doors paired with a similar style (we think so!) skirting and architrave design.
First up:
Belize & Grooved 2 Chamfered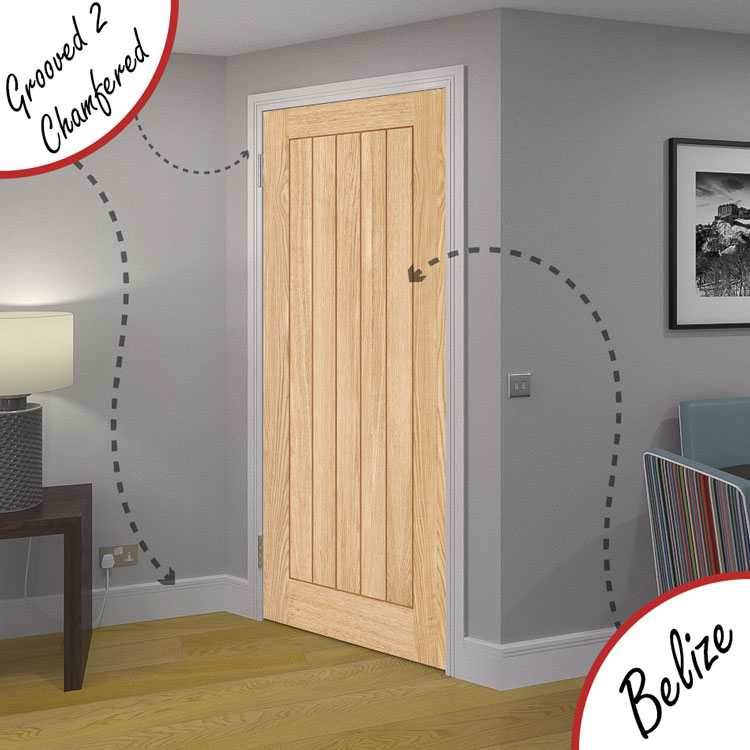 Products pictured:
Here you can see that we've matched grooves with, you guessed it, more grooves.
Oak doors paired with white skirting and architraves are increasing rapidly in popularity. It works well and really makes the doors stand out due to the contrasting colours.
Having grooves featured heavily in both products ties them together and produces a unified look and feel throughout the home.
If you have a traditional style home, you'll probably want to avoid these designs as they definitely lend themselves to modern, contemporary style interiors.
Nostalgia & Period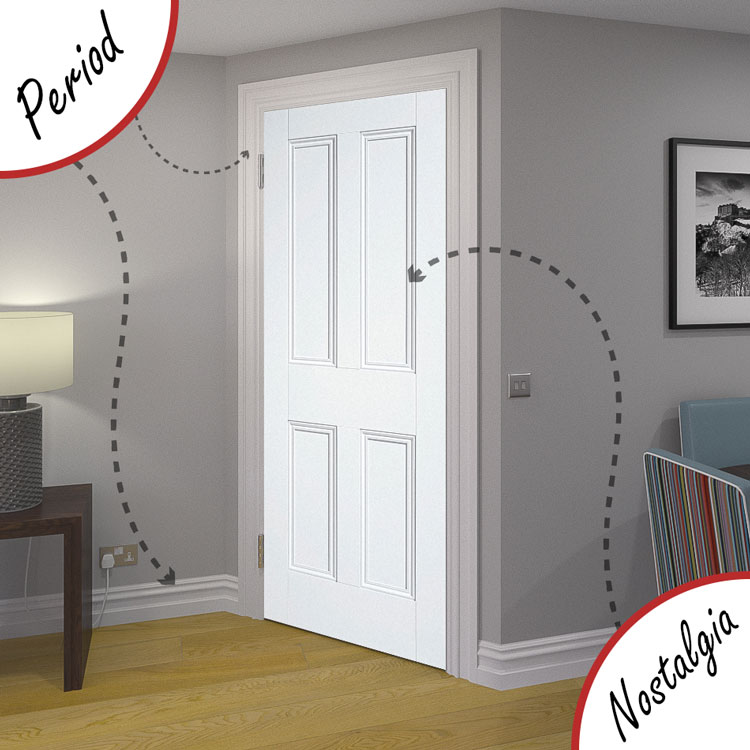 Products pictured:
We've matched fancy with fancy here. Our detailed Period design paired with the Nostalgia internal door.
The curves of the skirting and architrave work well alongside the detailing within the panels on the door face.
We'd say that this style works well in a traditional home.
Horizontal Four Line & Edge 2
Products pictured:
We've kept it plain and simple with this image. The clean lined door works well with our simple skirting and architrave.
Because the door features very little detailing, we paired it with our similarly simple Edge 2 design. This helps to keep the focus on the door when entering and exiting the room.
This skirting and architrave work well anywhere but we feel the door is more suitable for a contemporary home.
Mexicano & 15mm Grooved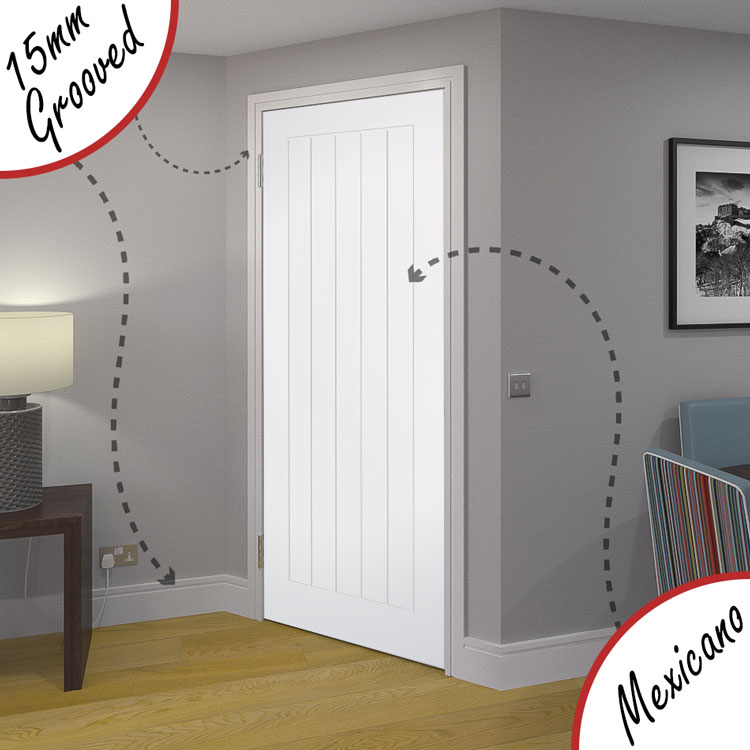 Products pictured:
Grooves are popular - this is the second image featuring them!
Again, because the door heavily features grooves we've paired it up with another of our grooved skirting.
This combination definitely suits a contemporary home.
Dover & Stepped 2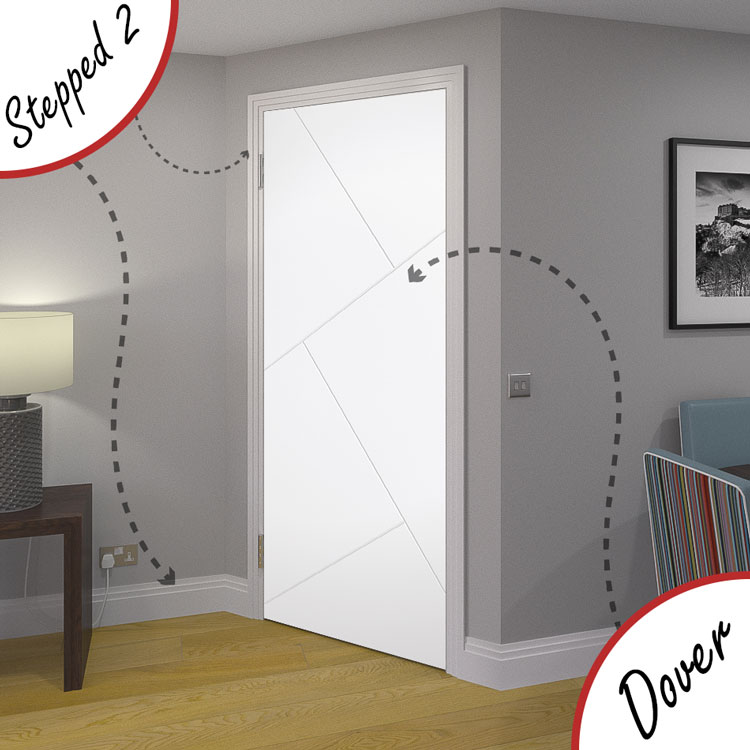 Products pictured:
Another modern combination! The Dover door is a stand out door - it won't shy away! Its diagonal grooves make it contemporary and suited to a modern home.
We've paired it with our Stepped 2 design to make it even more enticing!
Montpellier & Square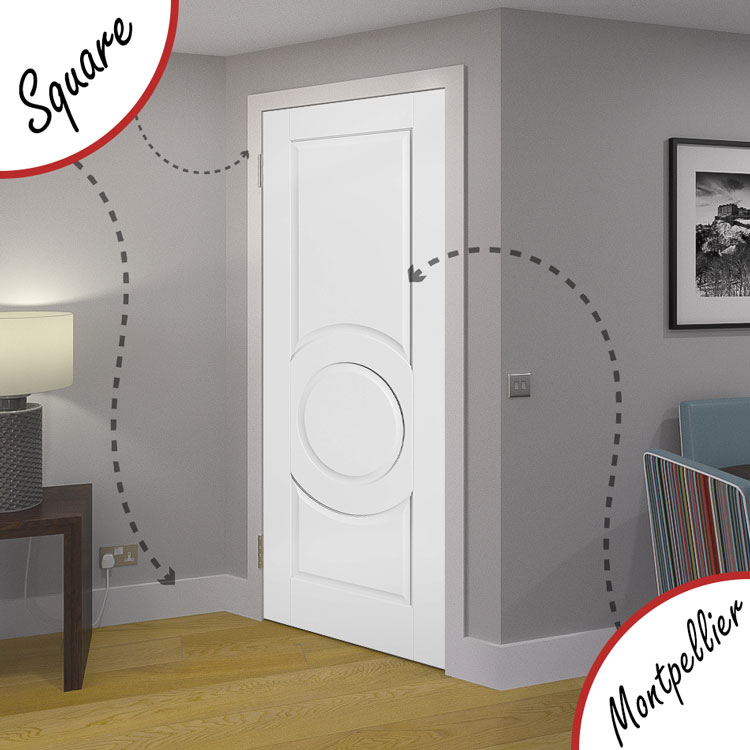 Products pictured:
Here, we've gone with our plain Square design because we've chosen quite a 'busy' door.
Featuring 3 panels (one circular with larger panels above and below), we decided to make the door the centre of attention here.
This door works well in both a traditional and modern setting.
Which Colour Door Should You Choose?
We've spoken a little about the designs on the doors and maybe pairing them with skirting and architrave.
However, which colour door should you be choosing for your interior?
White, Grey, Oak, Black?
We offer a huge range of doors and the main colours are White, Grey, Oak and Black.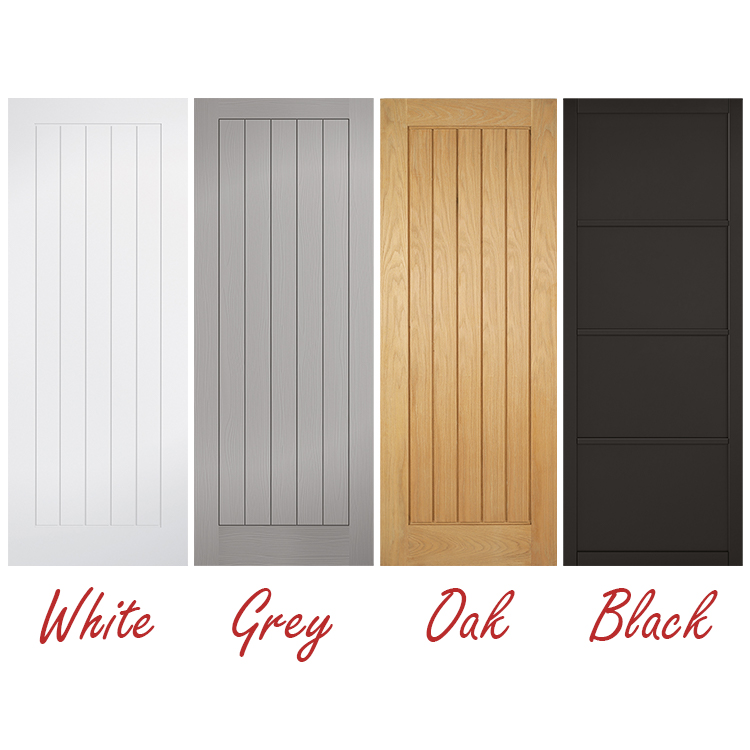 But which colour should you choose?
White Doors
The most common - and for good reason. White Internal Doors are always a favourite because you can use the colour white with almost any other colour and it will tie in.
Another reason is because the majority of door manufacturers offer almost their whole range in white (whether it is just primed and ready for painting or even fully finished and ready to hang). This means you'll more than likely find a style you love if you're going for a white door.
Grey Doors
We've seen a huge uplift in requests for grey skirting boards so it makes sense that demand for Grey Internal Doors is on the rise too.
Modern and contemporary interiors are featuring grey as a prominent colour. Moving this to the doors too can make a real feature out of them.
Oak Doors
Another very popular option is our Oak Internal Doors. We think the best combination is when simple colours are used within the home (think white) as this helps the door to stand out as a feature.
With our Oak doors, some are unfinished meaning you can add your own varnish to suit your taste or even paint the door. The others are pre-finished meaning you can hang them straight away knowing you've got a lovely oak finish!
Black Doors
Bold interior? Take a look at our range of Black Internal Doors.
These will definitely make a lasting impression. Bold, dark and beautiful - these doors offer a contrast against light walls and blend in perfectly with dark walls. Pairing with a gold door handle really puts these doors in another league.
Which Size Door Do I Go For?
We'll cover this in detail in another post, but here are the options you can choose on our site (not all doors have all sizes available):
1981mm x 533mm (78" x 21")
1981mm x 610mm (78" x 24")
1981mm x 686mm (78" x 27")
1981mm x 762mm (78" x 30") MOST POPULAR
1981mm x 838mm (78" x 33")
When it comes to choosing the door size, it's pretty much down to the size of the door frame you are fitting the door within!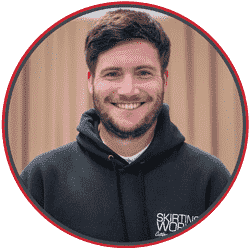 Lee Watkinson
Digital Marketing Director at Skirting World with 10 years of experience in Home Interiors & Manufacturing.