Using Pipe Boxing Skirting Boards To Hide Pipes
Central heating is a must in the UK (especially in Winter!). Unfortunately, this normally means having pipes running along the bottom of your walls which can be unsightly.
Many of you will have painted or been planning to paint the pipes to make them as appealing as possible.
However, it can be difficult to get a paintbrush behind the piping and this can cause issues if you're painting them a different colour to the walls.
Putting up wallpaper can be a daunting task at the best of times. Pipes on the walls can make it harder as additional cuts would need to be made to get around pipe clips and other obstacles.
Pipes can also be dust magnets and due to their shape, they can be quite difficult to keep clean.
It is possible to have them hidden inside the wall but this can lead to extra costs. With that being said, we do have an alternative option for you - pipe boxing skirting boards. We'll come to this a little later in the post.
So what options do you have for hiding pipework?
Pipe Covering Solutions
Most pipes that customers are looking to hide are radiator pipes for their central heating system.
The first solution and the main one people use is boxing the pipes in.
Boxing In Pipework
"Boxing in" normally refers to using straight pieces of wood (usually MDF or can even be plasterboard) to form a box cover around pipes.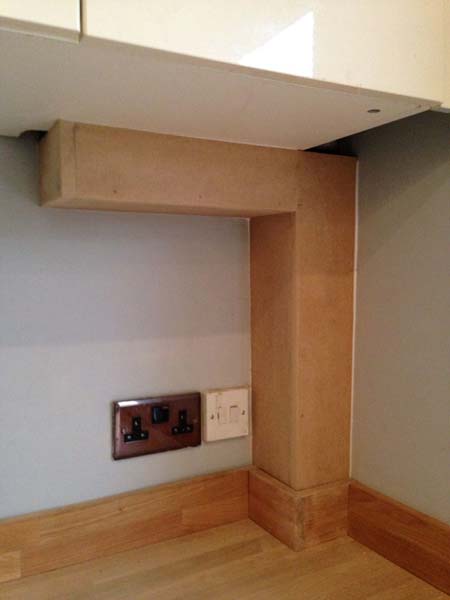 You may already be familiar with this as it is pretty commonplace throughout homes in the UK, especially in kitchens and bathrooms.
Boxing in is an easy solution that hides piping and creates a clean and less cluttered look for the interior. If you use this method, painting the boxing the same colour as the skirting or surroundings helps to minimise the visual impact on the room.
This option is normally the cheapest to carry out but can make the room look and feel smaller than it actually is due to the space that boxing can take up.
So, let's look at another option to cover those central heating pipes.
Rebated Skirting Boards
This option is fast becoming more popular within the UK. It takes a normal skirting board and removes material from the back of the board to create a space to channel pipes.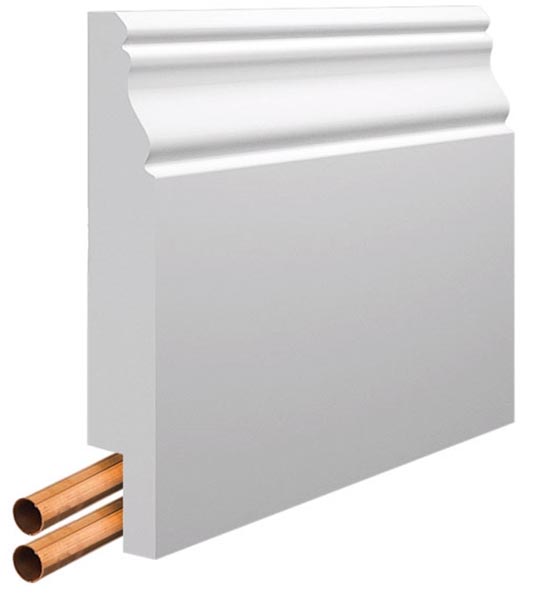 Here at Skirting World, we offer 100 designs, most of which can have a pipe rebate included.
The biggest advantage to using skirting boards with a rebate is that it is an almost completely invisible solution. What we mean by this is that skirting is found in homes anyway and the pipes will be hidden behind them so nothing looks out of place!
This option is inexpensive (just a small extra cost on top of a length of skirting) and requires less work to install as opposed to the boxing in method we just covered.
As most homes have varying heights on pipe installations (some may be just off the floor, others a little higher), we don't offer a standard height for a pipe rebate. However, the thickness is always standard.
For example:
If you order 18mm thick skirting, the pipe rebate would be 12mm thick leaving 6mm of material.
If you order 25mm thick skirting, the pipe rebate would be 19mm - again leaving 6mm of material.
This helps to ensure the board remains durable and gives you enough space to hide the pipework.
In regards to the height of the rebate, we can pretty much do whatever is required. One thing to bare in mind is that we like to leave approx. 25mm above the rebate before the design starts. This also helps the skirting board to keep its strength both for transport and installation purposes.
Skirting Board Covers
We already have a selection of skirting board covers on our website which may be perfect to cover your pipes (some customers have started calling them a 'Pipe Cover Skirting Board').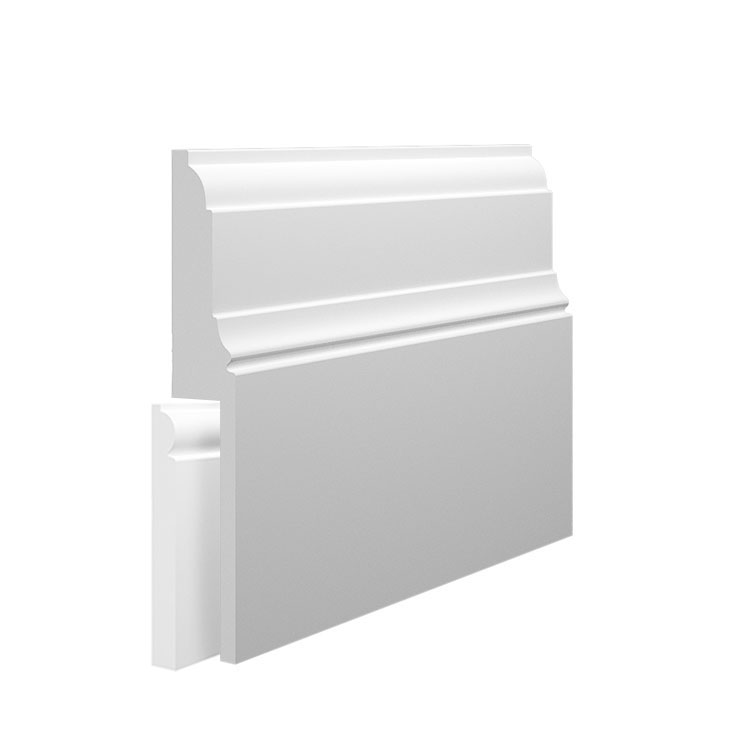 Because they are used to cover existing skirting boards, the rebate is naturally larger than our standard rebate offering.
You should be able to find some pipe cover skirting that will cover your pipes from our selection but if not, just get in touch - I'm sure we can work something out!
These will be a perfect option if your pipework has been fitted over the top of your original skirting boards. Just measure from the floor to the top of the pipes (add approx. 5mm to be safe) and then you have the height of the rebate required to hide the pipes!
Summary
So we've covered a few options for hiding pipework within your home. The next part is up to you!
We can help with the material for boxing in (square MDF) if this is the route you choose to take.
We can also supply rebated skirting boards with a custom sized rebate if you wish to pursue this option.
Just get in touch and we can discuss your requirements in depth!
-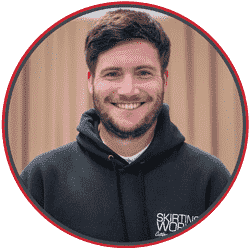 Lee Watkinson
Digital Marketing Director at Skirting World with 10 years of experience in Home Interiors & Manufacturing.