Ogee Skirting Board - A Design Staple
The Elegant S-Curve Loved by Designers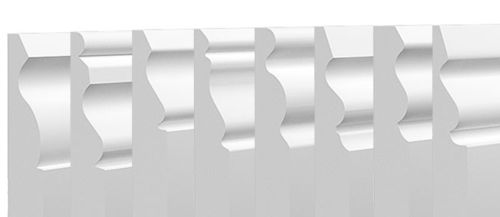 With their distinctive S-curve profile, Ogee skirting boards have brought ornamental flair to interiors for centuries.
Learn why the Ogee profile has remained a mainstay trim option since its emergence in ancient Greece, and how subtle profile adaptations allowed it to complement both classical and contemporary spaces.
Discover what makes Ogee skirting a versatile choice beyond its decorative heritage, and why designers continue to choose it over other skirting board options.
What Is The Ogee Design?
When you hear the word Ogee, it's generally in regard to skirting boards (or architraves). They are also expecting a common design featuring the 'sweeping S-curve'.
Below, you'll see a range of Ogee style designs that have similar features (the notable curve, for instance).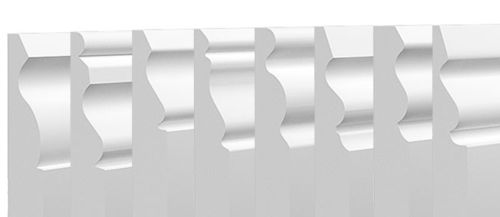 From left to right:
The size of these designs tends to range between 44mm and 50mm with the exception of Mini Ogee 1 which is approx. 38mm.
You'll also see that the majority of Ogee styles start with an angled edge that flows into the sweeping curve. Although some of them start slightly different, you'll notice that they all include the curve feature which is indicative of an Ogee shape.
Our Regency design is a bit of a curveball within our Ogee line-up. It's the one that features an Ogee type curve but is least like an original Ogee design.
Ogee Design History
The Ogee profile first appeared in ancient Greek architecture, with early examples gracing the Parthenon.
Its signature double curve shape was formed by the meeting of two half-circle arcs - a convex above and concave below. This S-like silhouette created decorative shadow lines prized in classical motifs.
When adopted in interior mouldings centuries later, the Ogee profile flowed well next to classical columns and pediments. Deeply routed Ogee added flair contrasting simpler skirting boards. Intricate hand carvings multiplied its visual impact.
While labor-intensive in ancient times, ornate Ogee became more accessible for homeowners as woodworking tools became more precise. Manufacturing standardisation further expanded its reach while retaining its ornamental heritage.
A Look Into The Most Common Ogee Designs
Starting with the original:
Ogee 1 Skirting Board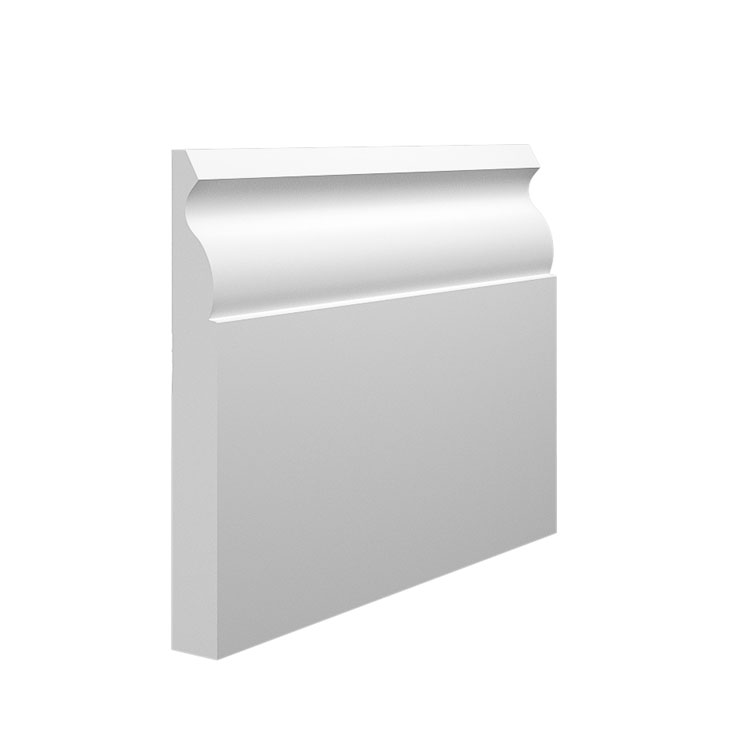 Our Ogee 1 design follows the classic Ogee look - a simple but effective sweeping curve. And that's it.
This design is approx. 50mm which is the average design size within the industry.
Even though we class Ogee as a traditional design, time and time again we see customers with new builds and modern homes choosing it. It simply works well in any interior.
Ogee 2 Skirting Board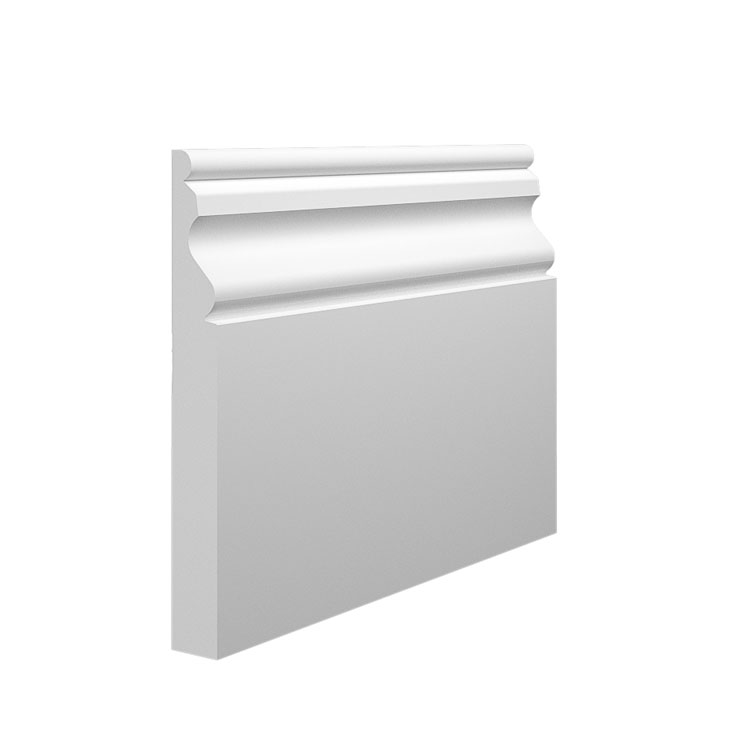 Our Ogee 2 design is very similar to Ogee 1 but features a round at the top, just before the angled slope and Ogee style curve.
This adds an extra decorative feature to the design and makes it suit a traditional interior even more!
The design is still approx. 50mm so the sweeping curve is slightly small than that of the Ogee 1 design.
Mini Ogee 1 Skirting Board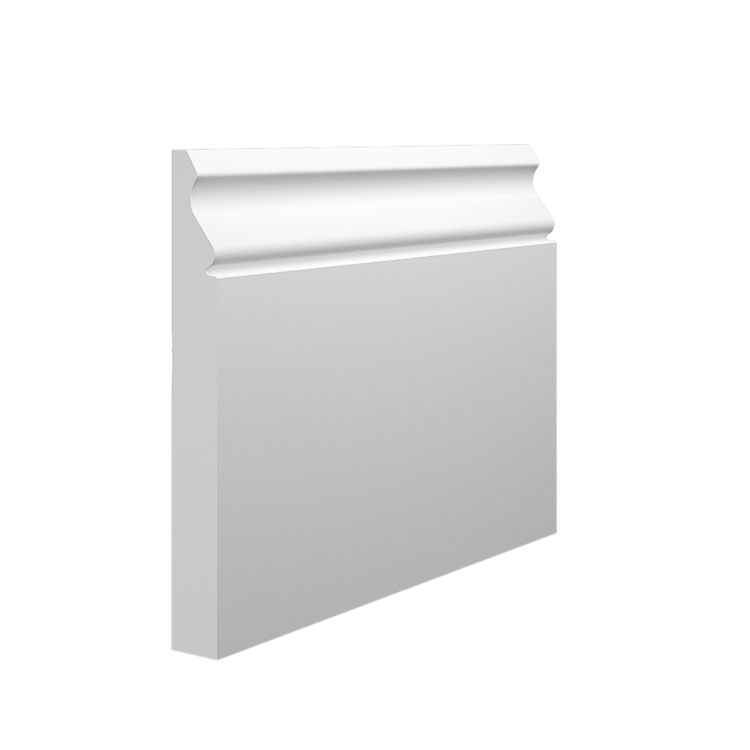 Like the look of our Ogee 1 profile but want a shorter skirting? Check out our Mini Ogee 1 - it's pretty much a scaled-down version of the original Ogee.
This design is commonly chosen when smaller skirtings and architraves are needed. You get a decorative design in a compact size.
It's also one of the more popular Ogee style designs for modern interiors and new builds.
Oscar Skirting Board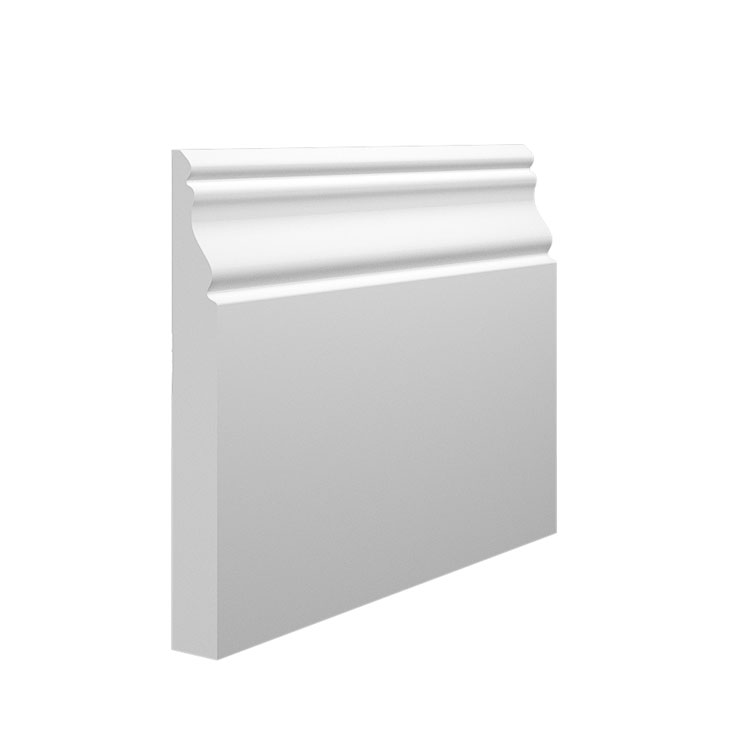 We've come to our first design that doesn't have Ogee in the name - the Oscar design!
Even though it doesn't sound like Ogee, you'll notice that it follows the same pattern type as Ogee 2 with a round top and a sweeping curve.
Unlike the Ogee 2, Oscar features softer lines with more rounded edges. It's still traditional in style but could lend itself to modern interiors.
Regency Skirting Board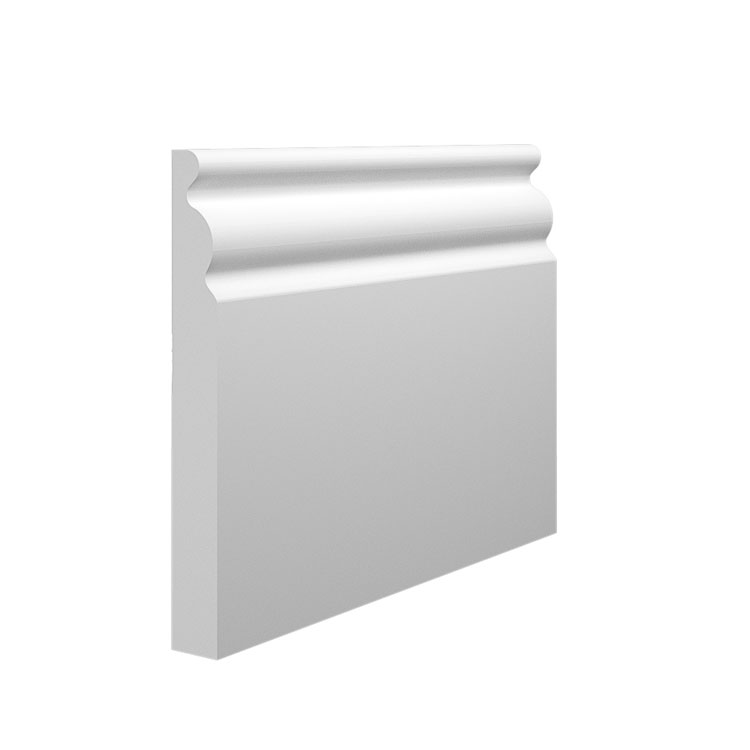 Our Regency design is a bit of a wildcard. We've chosen it because it features a similar shape to the Ogee style but the rounds are much more pronounced making it more 'curvy'.
We find that the rounder shape of this design makes it look softer - perfect for interiors with subtle lines and shapes.
Vintage 1 Skirting Board
Our Vintage 1 design is a simple Ogee shape with a little added extra - a small rectangular groove below the main curve.
This subtle difference really makes Vintage 1 stand out against the crowd of Ogee style designs.
Vintage 2 Skirting Board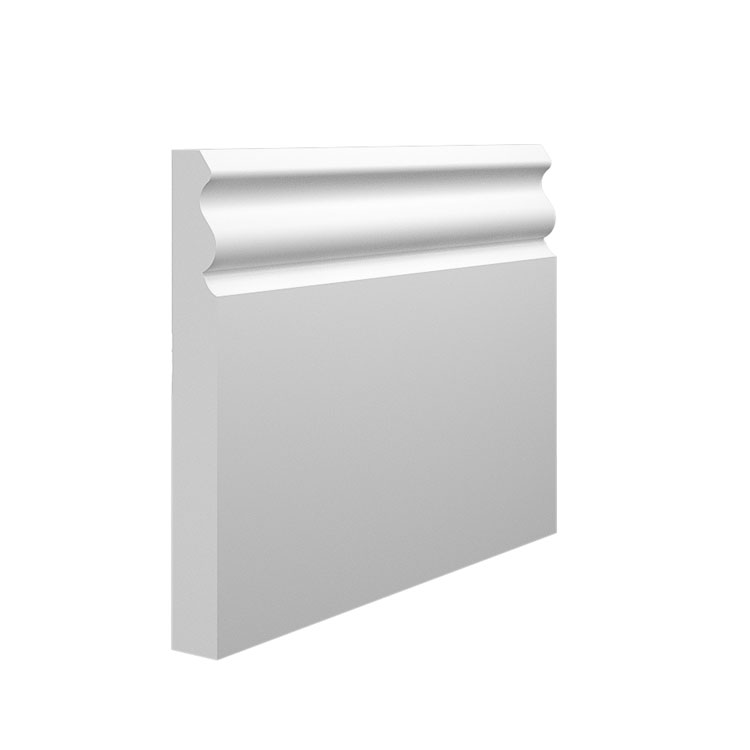 Our Vintage 2 design simply features an Ogee style curve. However, the angled slope sits almost level with the outer curve and plain section below the design.
This makes the design look more uniform as the others tend to be thinner towards the top and gradually flaring out towards the bottom.
Profile 2 Skirting Board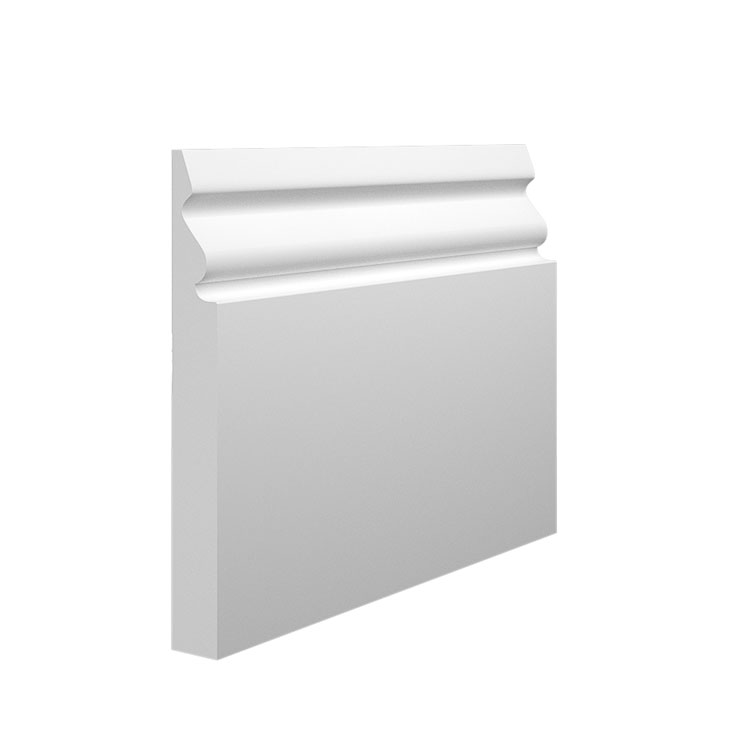 Looking at our Profile 2 design, it looks almost identical to our Vintage 1 design but lacks the rectangular groove.
The features are very pronounced in this design - the angled top almost looks sharp and longer than normal.
The 'scoop' at the bottom of the design is definitely the most stand out amongst the Ogee styles.
The Return of Ogee's Popularity
Ogee fell out of vogue as sleek Modernism rose. By the 1970s, a return to ornamentation brought classical elements like Ogee back into mainstream interior design.
Newly built Neoclassical homes featured Ogee skirtings and architraves. Historic house renovations prioritized restoring original Ogee trims. Its fluid curves and hand-crafted aura were appreciated once more.
Today, Ogee remains a sought-after profile for developers and flippers wanting to impart instant heritage character. Homeowners value its simultaneously stately yet softening presence. The Ogee has reclaimed its place as a distinguished interior feature.
Ogee in Contemporary Settings
Walk through recently completed developments and Ogee skirting boards frequently accent rooms with heritage character.
Interior designers adore blending Ogee's ornate yet understated S-shaped profile with otherwise contemporary elements. Its subtle shadow line and curved contours pair elegantly with minimalist furniture and crisp white walls.
Beyond new builds, many renovation projects prioritize restoring existing Ogee skirting trims. Homeowners carefully strip layers of paint to reveal the original wood Ogee boards and arched curves. Preserving this ornamental detail maintains the property's unique character.
The effort and care taken to uncover Ogee skirting reflects the enduring affection people harbor for its decorative heritage. The revival of Ogee's popularity secured its place once again as a distinguished interior design feature.
Why Designers Choose Ogee Skirting
With endless trim options, why does Ogee remain an enduring choice of designers for adding a touch of sophistication?
Ogee features just enough ornamental detail to enrich minimalist rooms without overcomplicating the look. The soft edges pair seamlessly with crisp finishes and strict lines.
The graceful S-shaped profile provides eye-catching elegance without dominating a space. The signature shadow line created draws eyes down walls in an alluring curve.
Beyond its aesthetic appeal, Ogee enjoys longevity no modern profile can match. Interior trends come and go, but Ogee persists thanks to its heritage distinction and adaptable charm across styles from ornate to minimal.
Beyond personal affinity, Ogee offers specific benefits:
Provides subtle ornamental interest without overpowering
Light shadow line draws the eye down walls elegantly
Pairs well with modern elements while retaining classic charm
Suitable for minimalist to ornate styles Communicates heritage and sophistication instantly
Ogee also enjoys longevity. As trends come and go, the Ogee profile persists thanks to its versatile flair. Designers can rely on its availability for heritage homes or subtle modern accents, without worrying about it going out of trend.
Choosing Ogee Height and Width
Choosing appropriate Ogee skirting dimensions has a significant impact on the overall interior proportions and style. Consider these guidelines when selecting height and width:
Ogee Skirting Height
For rooms with standard 2.4m ceilings, a height of 100-150mm is recommended
As ceiling height increases, the ogee height should proportionally increase up to a maximum of 400mm
In smaller contemporary rooms, a shorter height of 70-90mm helps keep the space feeling open
Ogee often looks best around 130mm+ in heritage and traditional spaces
Larger, grander rooms suit taller Ogee boards to visually anchor the walls
Avoid overly massive Ogee sizes in small rooms which can overwhelm the design
Ogee Skirting Width
The standard 18mm width provides a nice balance between ornate and discreet
For bolder, more substantial ogee presence, a width of 25mm is recommended
In modern minimalist interiors, slimmer 15mm Ogee skirting can provide a lighter feel
Wider Ogee boards generally assert their presence more compared to thinner variants
When replacing existing Ogee skirting, take measurements to find new boards that align with the proportions. Getting the height and width right ensures Ogee can make a subtle yet captivating statement.
FAQ
Is Ogee Skirting Classed As Traditional?
We'd classify Ogee skirting boards as traditional. But this isn't because they're very large or detailed. It's mainly down to it being a staple design, one of the originals and used in properties all over the UK.
What's the difference between Ogee and Torus skirting?
The main difference is Ogee's S-curve shape with a shadow line versus Torus's rounded bullnose profile. Ogee has a more traditional, ornate look while Torus appears softer and more contemporary.
How to cut Ogee skirting boards?
Measure and cut Ogee skirting to length with 45 degree mitred joints using a fine-toothed chop saw. For inside corners, precisely mark then cut the left and right pieces to shape. Lightly sand cut ends to fine-tune the joints.
How to install Ogee skirting boards?
Install Ogee skirting using adhesive, nails or screws onto a secure, prepped substrate. Mitre joints at corners and ends. Use fillers to conceal nails. Caulk along the top edge for a tidy finish.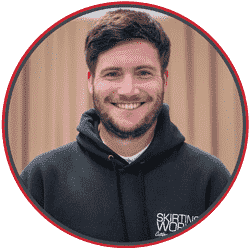 Lee Watkinson
Digital Marketing Director at Skirting World with 10 years of experience in Home Interiors & Manufacturing.