How Much To Hang A Door | 2023 UK Cost By Region | Get 50% Off
How Much To Hang A Door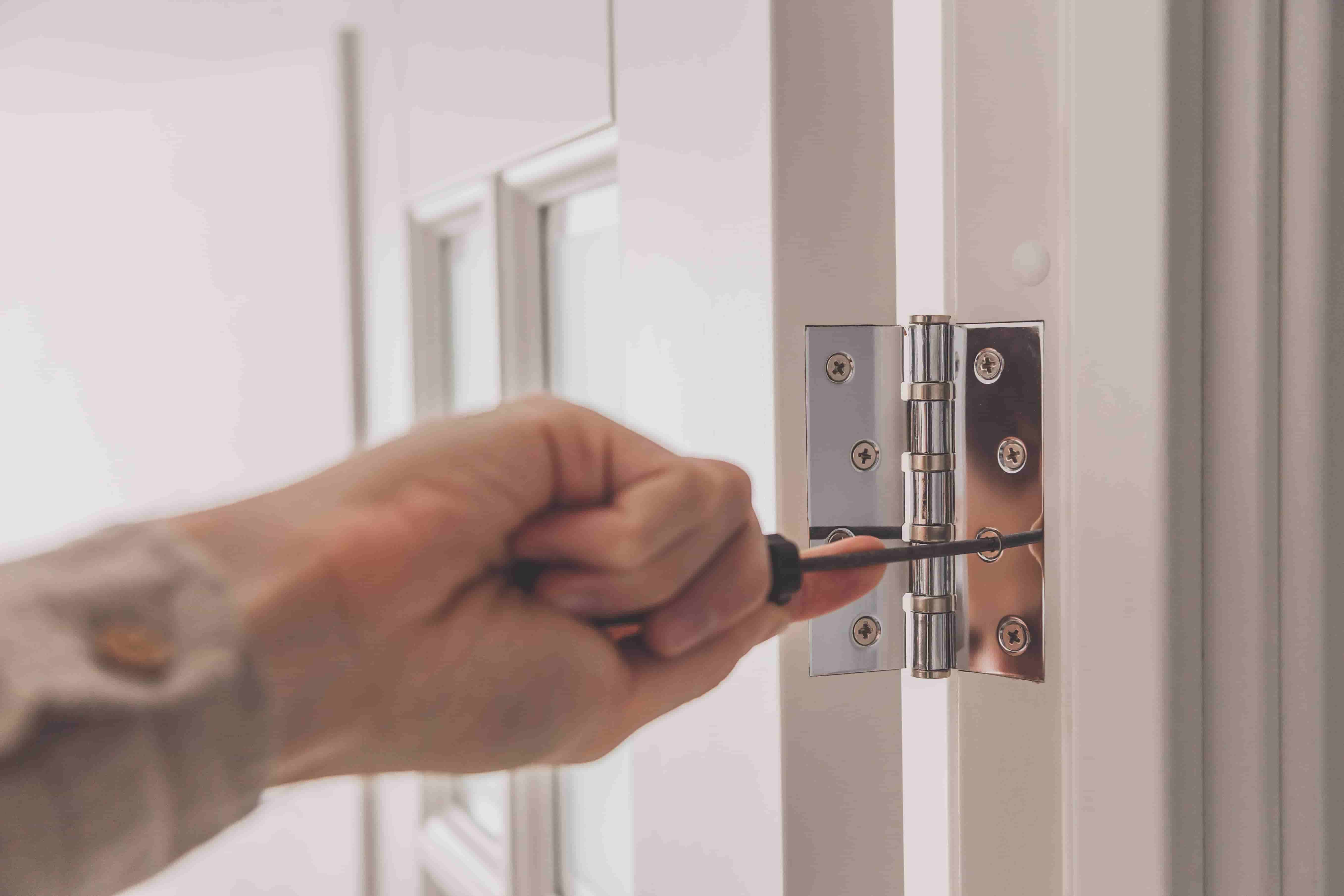 The cost to hang a door varies significantly by your region and the type of door you want to hang.
We found out the average door installation costs for each city and additional costs for amenities and accessories
Read on to crunch the numbers and find out how to get over 50% off the cost with a handy local tip!
Contents
How Much To Hang A Door
Hanging a new door can update the look and feel of a home. But how much will a carpenter or joiner charge you to install internal and external doors in the UK?
We did the hard part and called and emailed carpenters around the UK to give you the average costs for hanging a door in a handy map below!
Prices are affected by the door type, size, material, and complexity of the installation.
Internal Doors
The average cost of hanging an internal door in the UK ranges between £30 and £250 nationally, this wild range doesn't help you much, so we found out the cost per region for a more accurate estimation.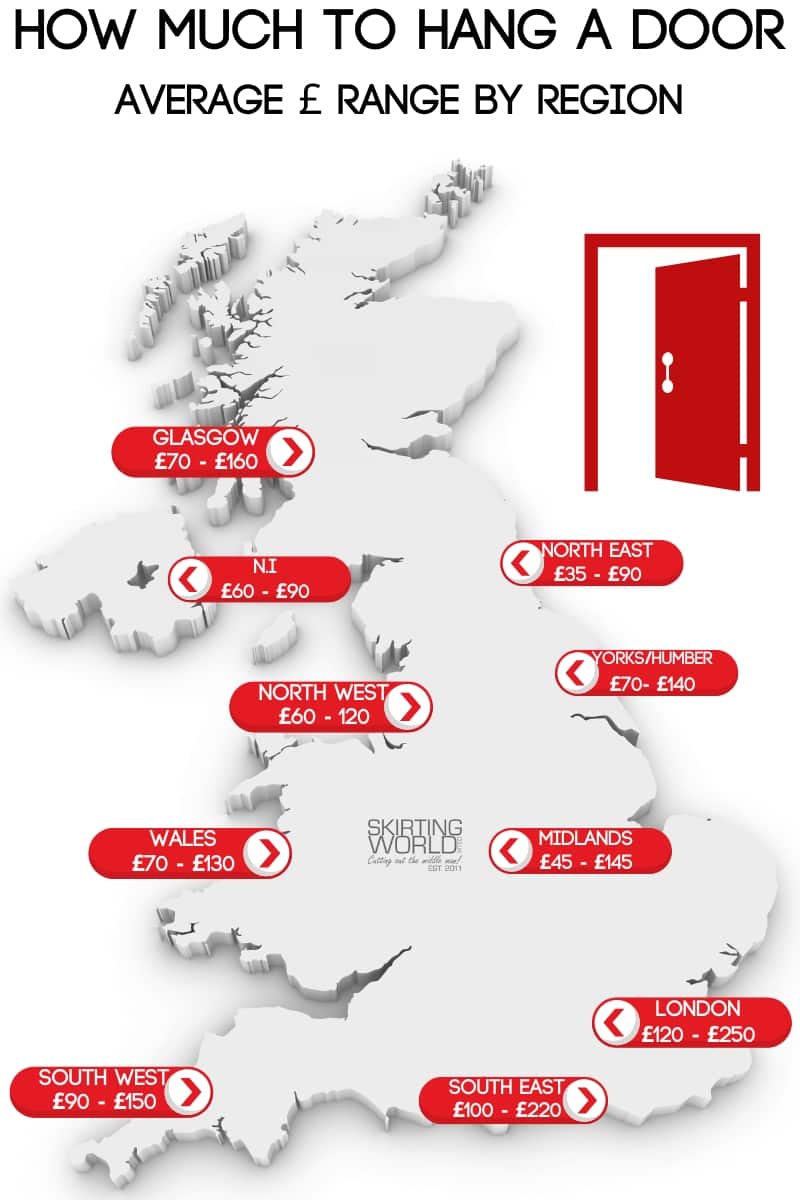 Why does the cost vary so much?
Variables like door size, material, complexity, and interior location all play a part in the quotation range. It's difficult to get a single figure for each region and for the UK.
Factors that your carpenter uses to make a quote:
Door Material: The denser and heavier - the more it will cost
Door Size: The bigger the door, the bigger the bill
Complexity: Some doors need planing and door frames may need adjusting, expect to pay more the less ready your doors and frames are.
Interior Location: Carpenters/Joiners have a charge for every move, if the doors need to be installed upstairs, that incurs extra charge for labour involved in getting tools/materials to the upper floor and manouevring. Tight spaces can also make installation trickier, which can also bump up the cost.
Get a written quote (Important for multiple doors)
If you're hanging multiple doors, the cost can add up, a written quote lays out the exact costs for labour, materials and fees, so there are no surprises later from mid-job hikes and your price is locked in.
The quote should detail exactly what scope of work will be performed to hang the door (removal, installation, finishing).
And the quote sets expectations, making sure you and the contractor agree on all project details, like timeline and responsibilities.
With a written quote the contractor is legally obligated to complete the work at the agreed upon price and the contractor is held accountable.
It also allows comparison, with a quote for hanging doors, you can shop around and evaluate multiple contractors on an apples to apples basis.
External Doors
External doors such as front and back doors, usually cost significantly more to hang, due to their size, weight and the additional security features. The cost can range from £50 - £300, excluding the door itself.
The material of external doors (solid wood, composite, uPVC) can also significantly affect the price.
Bulk Discounts
If you're planning to replace multiple doors in your home, you may be able to negotiate a bulk discount with your carpenter or joiner. Often, professionals offer a reduced rate for each additional door after the first. So install all your doors with the same contractor and at the same time (a carpenter can only hang so many doors in a day, read on to find out more).
How To Get 50% Off The Cost Of Hanging Doors
(and support local trade at the same time.)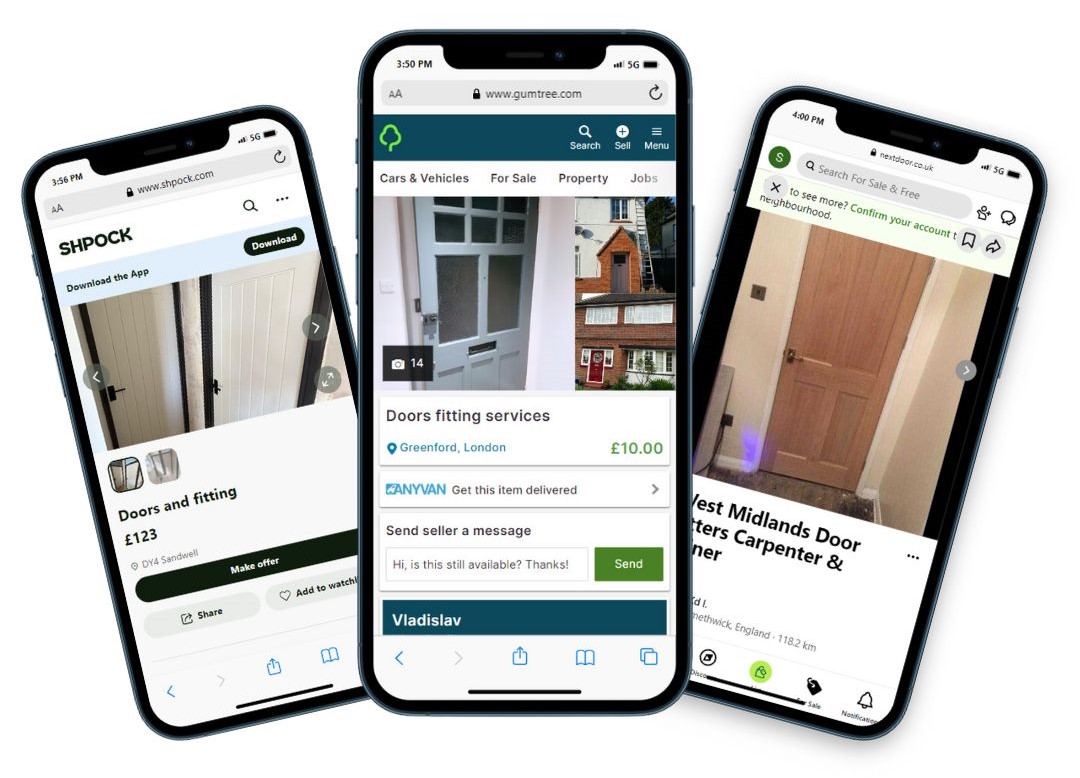 Door installation costs can be inflated, and the cost can add up due to fees and charges, putting stress on your budget.
However, this doesn't have to be the case. By sourcing your work from lesser known and local carpenters, joiners and handymen.
Browse apps like Facebook Marketplace, Gumtree, Shpock and Nextdoor to get in touch with up and coming carpenters, apprentices/trainees and grassroots contractors.
Search for "Carpenters", "Door Fitting", "Door Hanging", "Joiner" and "Handyman" to get started.
Fitting Yourself Or Hiring A Tradesman
Obviously, fitting a door yourself if you're able to is going to be cheaper than hiring a professional. But it will still cost you time.
Also, if you're not 100% confident in doing the work yourself you should always hire a professional to do the work.
Yes it may cost you a fair bit, but the end result will be perfect (provided you've done your research and hired a good tradesman).
If you are going to hire someone, you can always do your bit to get the best price possible.
Account For Everything
From start to finish, the cost of hanging a door includes a lot of other things that are necessary but maybe not thought of immediately.
For example, once the hinges are on and the door is in place you'll also need the handles fitted.
Make sure the price you are given is a start to finish price. You want to know that you will have a fully functional and ready to use door once you've handed over your cash.
Do you have old doors that need to be taken away? You might find that there's a charge for this too.
If you're ready to get some new doors fitted, check out our post about choosing the right door for your home.
Accessories and Finishes
Door Handles
Door handles are the most critical accessory for internal doors, they are the part you will make contact with the most and when choosing a handle, aim to complement the door and the overall interior decor. Door handles range from £5 - £100.
Pet Flaps
Pet flaps can be a great addition to your door, especially if you have a cat or small dog. The cost to install a pet flap typically ranges from £20 to £50.
Door Security Features
Adding extra security features to your door, such as a multi-point locking system or a security chain, can provide peace of mind. The cost of these features varies, but you can expect to pay between £10 to £100 per feature, depending on the complexity.
Door Knockers
Door knockers can add a traditional touch to your door. The cost to install a door knocker can vary widely, from £5 to £50, depending on the style and material.
Joiner Hourly Charges
The average hourly rate for a joiner or carpenter is about £30 - £50 depending on experience, making the daily rate for a joiner or carpenter in the UK about £150 to £250, depending on experience and location. Remember, it's worth paying a bit more for a highly skilled professional to ensure a quality finish.
How to find a Carpenter/Joiner
To find a reliable joiner or carpenter, ask friends or family for recommendations, check online reviews, use apps like Gumtree, Shpock, Nextdoor and Facebook Marketplace or use a trusted trade website. Always request a written quote before hiring someone to hang your doors.
FAQ
Who fits doors?
Carpenters, joiners, and experienced handymen typically install interior and exterior doors.
How much to hang a fire door?
Due to their heavy weight and need for precise installation, expect to pay £100-£300 to have a professionally certified fire door hung.
How much does it cost to hang a front door?
Hanging an external front door typically costs £150-£300. Extra expenses like weatherproofing, a new lock, and finishing increase the price.
How much should I charge to hang a door?
The typical rate ranges from £60 - £250 per door. Base the final price on these factors:
Experience level - £30/hr for beginners, £50/hr for experienced.
Door type - simple interior doors take 2-3 hrs. Exterior, garage, French doors take longer.
Accessibility - tight spaces or stairs increase time required.
Materials - include cost of new door, hardware, tools if provided.
Travel - factor in fuel and time costs if significant distance.
For standard interior doors:
Beginner carpenter: £60-90 (2-3 hrs at £30/hr)
Experienced carpenter: £100-150 (2-3 hrs at £50/hr)
Add £50-100 for exterior, garage or specialty doors requiring more work.
Establish a daily rate and estimate hours required. Get the customer's approval for total expected cost before starting.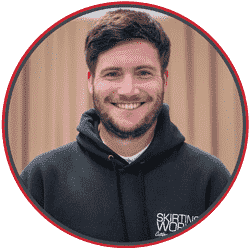 Lee Watkinson
Digital Marketing Director at Skirting World with 10 years of experience in Home Interiors & Manufacturing.