The Best Skirting Board Adhesives
When you want to fix your skirting to the wall, you'll want to make sure you're using the strongest glue and fixings possible. In this article, we're going to show you the best skirting board adhesives.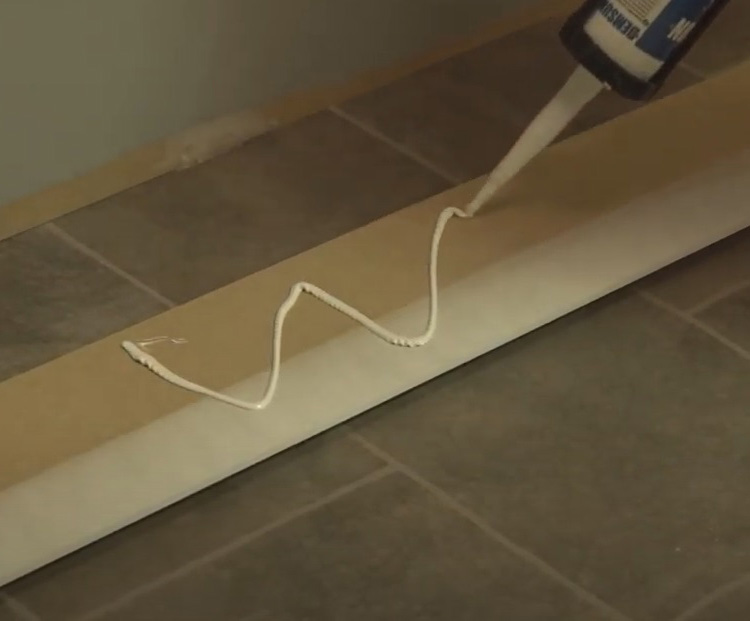 Top Skirting Board Adhesives
1. Demsun A32 Express Adhesive
Here at Skirting World, we stock a fair few products from Demsun because they're top quality and get the job done.
This definitely applies to the A32 Express Adhesive in the number one spot.
The word 'express' within the title points to its super quick curing time of just 15 minutes!
It has a strong grab and is also flexible so is everything you should be looking for!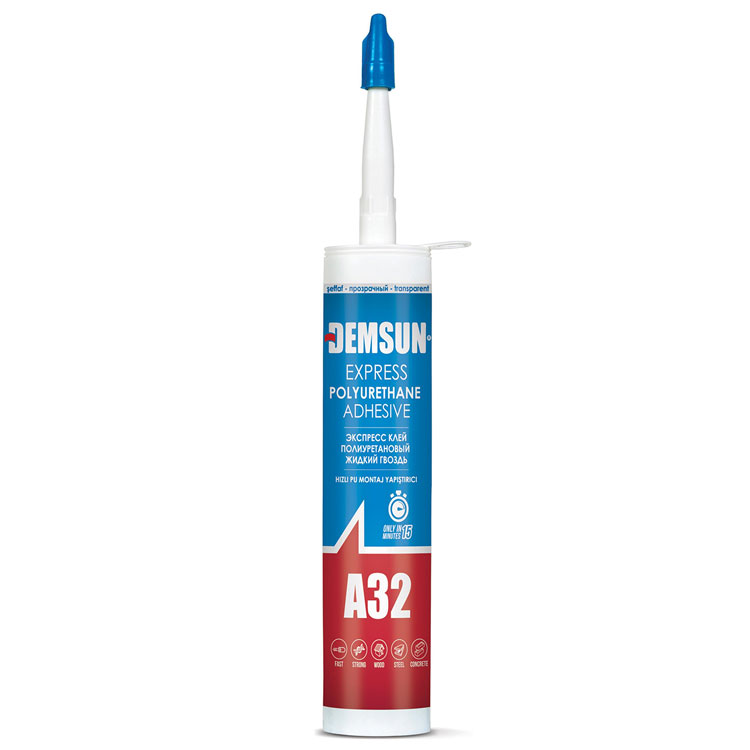 2. Demsun A30 Adhesive
The A30 Adhesive from Demsun is another solid choice. This has been the skirting board adhesive of choice for most of our customers since we started stocking it.
Essentially, it's a slightly cheaper version of the A32 as it doesn't cure as fast.
However, if you're not in a rush it's a more than ideal adhesive to do the job.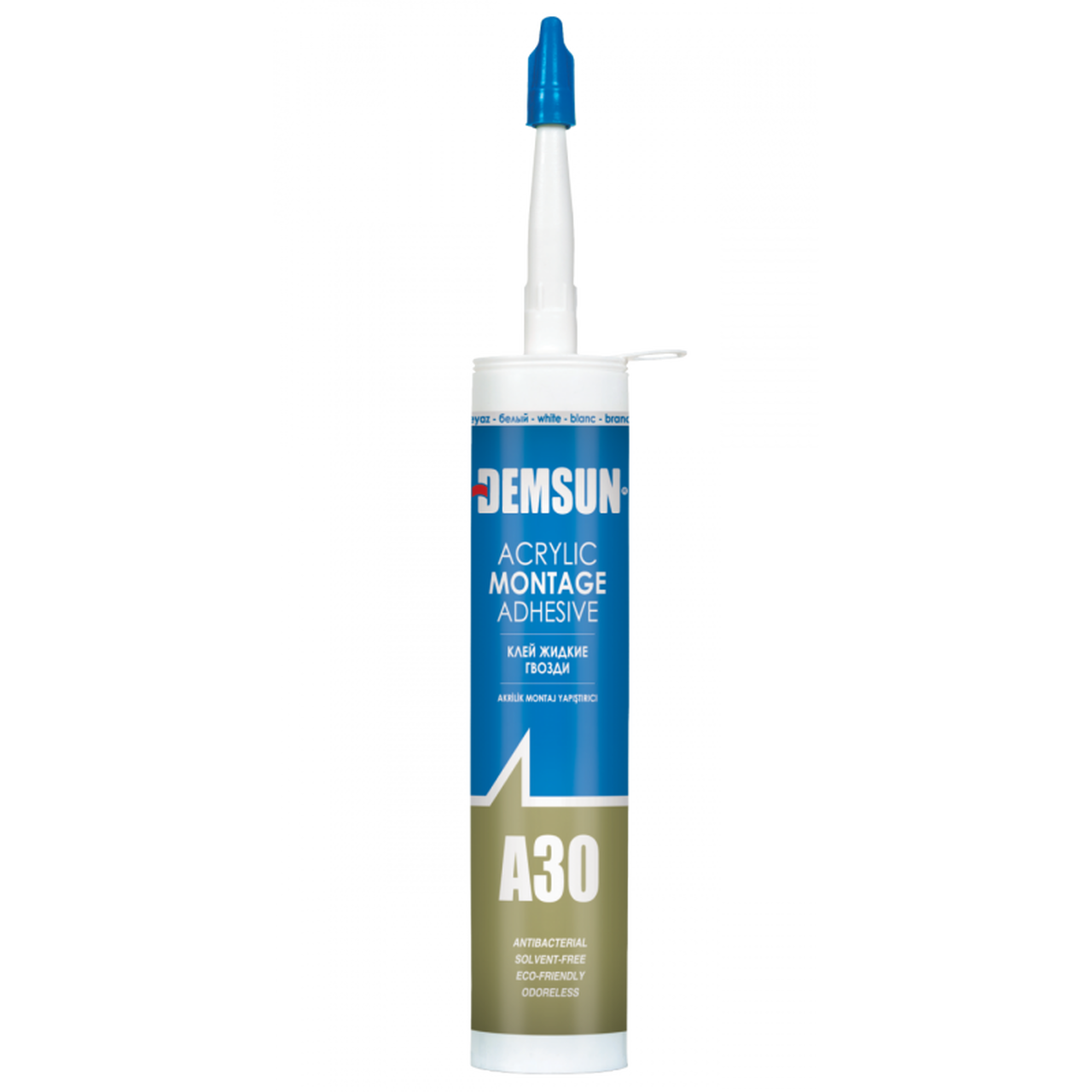 3. Gripfill
Before we found Demsun, we used to stock Gripfill from Evostik.
Therefore, we can recommend this adhesive for securing skirting boards.
However, our Demsun alternatives are the best options and we normally have plenty in stock!
What To Look For In A Good Adhesive
There's an abundance of skirting board adhesives on the market, so exactly what should you be looking for?
There are certain qualities that you'll want to ensure the chosen glue has.
1. Grab
Arguably, one of the most important factors is the 'grab'. This is basically how strongly the glue sticks to a surface.
A very strong grab is needed in a skirting board adhesive for skirting boards to ensure they stay put and don't start to come away from the wall over time.
2. Curing Time
Curing time is also another one to look out for. When gluing skirting boards, it's best to go for a skirting adhesive with a fast curing time. This means that it will set quickly, removing the need to hold it in place whilst the glue goes off.
3. Flexibility
Making sure the skirting board adhesive you choose is flexible will ensure it stands the test of time.
Choosing a non flexible adhesive will no doubt cause issues down the line. It will eventually become brittle and weakened. This is bad because skirting boards can expand and contract as temperature and moisture levels change within a home.
It's also wise to make sure the skirting board adhesive is flexible due to vibrations from foot traffic which simply cannot be avoided.
4. High Gap Filling Properties
Almost all of the time, the back of the skirting board you will be applying adhesive to will be completely flat.
However, the same can't always be said for the walls where the skirting is getting fitted. Unless it's freshly plastered, there may be holes / cracks present which can cause an issue with the skirting board adhesive being able to bond.
Make sure the adhesive is capable of filling gaps. This ensures that the skirting board adhesive can fill any of the gaps present on the wall when you apply the skirting. This will prevent weak spots when the skirting adhesive has cured.
Surface Preparation
No matter how good your skirting board adhesive is, it won't work as well as it should if you don't take the time to prepare the surface it will adhere to. A poorly prepared surface will be a weak adhesion point.
Before applying any of the skirting board adhesive, ensure that the skirting board and wall are free of debris, dust and grease as these will hinder the performance. The end result will be a much stronger and longer lasting bond between the two surfaces.
When you're working on a wall that's not completely flat, try your best to make it as flat as possible. For example, a plaster wall may benefit from a light sanding to remove any lumps and bumps.
Remember, using an adhesive with high gap fill will help in this regard.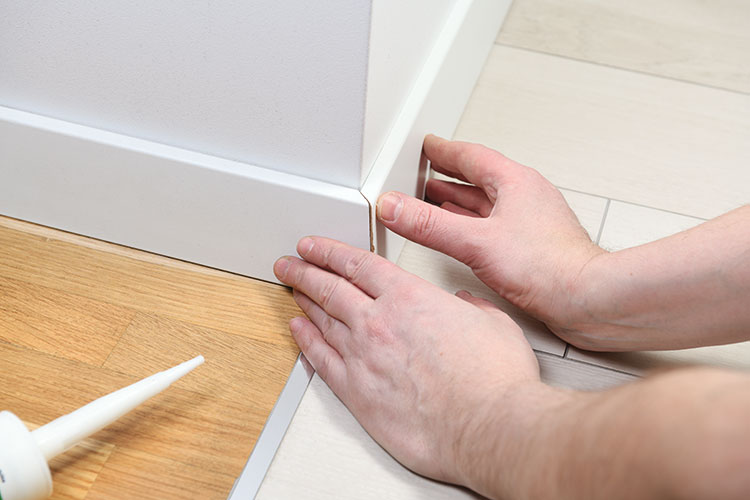 Using Foam As Glue
We've recommended the best adhesives above - these are purpose built for the job.
However, many in the trade have praised the adhesive qualities of expanding foam. We can't claim that this works as we have yet to try it, but there are plenty of tradesmen using it with great results.
The basics of using foam to stick skirting boards to the wall are as follows:
Mist the surface with water (not the skirting, just the wall).
Apply a couple of neat beads of foam to the skirting using a foam gun.
Offer it up to the wall and secure it with something heavy for around 10 minutes.
That's pretty much it! You should now have skirting that is fixed to the wall using expanding foam. And according to many online, this method offers as strong a bond as any skirting board adhesive they've used.
Benefits include super easy removal when required. Simply sliding a thin metal ruler (or a breadknife) between the skirting and the wall should break the foam and allow the board to come away from the wall.
This prevents damage to the plaster, no mess to clean up and the boards can be put back on the wall as easily as they came off.
Even though the removal with this method is easy, don't think that this means the hold strength of the foam isn't as good as the adhesive. According to many that use this method, once the foam is set there's no chance of the skirting coming off without breaking the foam.
Most have also stated that a general expanding foam will do - no need to look for a specialist product. And they also say that you must use the foam with a foam gun for the best control.
According to one user, thermal and sound insulation seem to be improved by using foam as an adhesive too.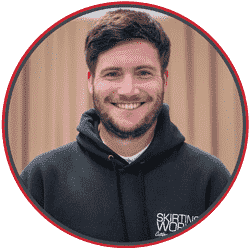 Lee Watkinson
Digital Marketing Director at Skirting World with 10 years of experience in Home Interiors & Manufacturing.